Dan Polsky Named New LDI Executive Director
Dan Polsky, who has served as LDI's Director of Research since 2008, has been named to replace David Asch as the Institute's Executive Director, according to an announcement from University of Pennsylvania Provost Vincent Price.
"The relationships between health care and economics -- which LDI has been investigating for 45 years -- are more central than ever on the global agenda," Price said. "Dan Polsky's interdisciplinary research and collaborative approach make him the ideal director to continue this invaluable work, building on the great strides made under the dynamic leadership of David Asch."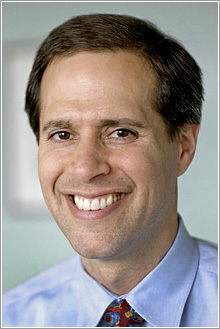 Dan Polsky, PhD, MPP, has been
named the new Executive Director
of the Leonard Davis Institute of Health Economics.
Polsky is Professor of Medicine in Penn's Perelman School of Medicine and Professor of Health Care Management in the Wharton School. He has taught at Penn since 1996, when he earned his PhD in Economics. He served on the Congressional Budget Office's Panel of Health Advisers and, in 2007-08, was Senior Economist on health issues for the President's Council of Economic Advisers.
Health economics
A globally recognized expert in health economics, Polsky is a co-author of the Oxford University Press' Economic Evaluation in Clinical Trials (2007) and an author of more than 90 peer-reviewed articles, in such leading journals as The New England Journal of Medicine, The Journal of the American Medical Association, and Journal of Health Economics. His research has received extensive federal funding, including multiple awards from the National Institutes of Health and the Robert Wood Johnson Foundation. In addition to his PhD in Economics from Penn, he earned an MPP (1989) and a BA in Economics (1988) from the University of Michigan.
Era of sweeping change
"It is both an honor and an exciting challenge to lead LDI at a time of such of great change across all of health care," said Polsky. "The work of our Senior Fellows focused on improving health care through research has never been more important than it is today as our nation continues its reassessment of virtually every aspect of medicine."
Established in 1967, LDI is one of the country's largest health services research centers with more than 200 Senior Fellows studying the organization, delivery, management and financing of health care.
Polsky also noted "the debt of gratitude" LDI owes to David Asch, who has served as LDI's Executive Director since 1998. "David's leadership has been extraordinarily successful and has immeasurably strengthened our institute's core functions," Polsky said. "David's personal hallmark has been a commitment to excellence in every sphere of LDI's activities. He leaves us on a very strong footing as a financially sound and intellectually vibrant organization that continues to expand its relevance and impact as a major national center of health policy research. In addition to fostering a 10-fold increase in grant-funded research among LDI Senior Fellows, he has established an infrastructure to expand the impact of this work through effective dissemination. We all look forward to building on this formidable base."
Asch's mentorship
"Along with everything else he did as head of LDI during the last fourteen years, perhaps David's least visible but most important contribution was the extraordinary energy he devoted to mentorship, of which I benefitted from immensely," Polsky said.
Asch will now focus his talents in a new role as Executive Director of the Penn Medicine Center for Innovation. A partnership between LDI and Penn Medicine, the Center combines the expertise of faculty members at Penn's Perelman School of Medicine and the Wharton School to research, validate and implement innovations within the Penn Health System and the School of Medicine.