Linda Aiken Wins IOM Award for Nursing Research
Cited for Rigorous Research in Nursing Care and Work Environments
Penn Nursing Professor and LDI Senior Fellow Linda Aiken has won the Institute of Medicine (IOM) Gustav O. Lienhard Award for her" rigorous research demonstrating the importance of nursing care and work environments in achieving safe, effective, patient-centered, and affordable health care."
Aiken, PhD, RN, a Professor at the School of Nursing and Director of the Center for Health Outcomes and Policy Research, also receives a $40,000 prize along with a Lienhard medal.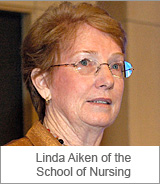 'Outstanding achievement'
Funded by the Robert Wood Johnson Foundation, the annual award is designed to recognize "outstanding national achievement in improving personal health care services in the United States."
Aiken is cited for her research "documenting that nurses' education, patient workloads, and work environment are associated with patient outcomes, as well as her work to translate those findings into practice and policy in the U.S. and other nations."
'Tremendous contributions'
"By illuminating the key role nursing care plays in patient safety and health and identifying concrete ways to support that role -- such as maintaining staffing levels and encouraging high levels of education for nurses -- Linda Aiken has made tremendous contributions to the quality of health care here and abroad," said IOM President Victor Dzau.
Last year, Aiken won a major international global health award for the same body of research focused on how mortality rates, complications, and staff turnover are lower and patient satisfaction and safety grades of hospitals are higher when nurses have at least a bachelor's degree education and work in a nursing environment characterized by support management and good relations between doctors and nurses.