David Asch & Kevin Volpp, Kodak's Lessons for U.S. Health Care
PHILADELPHIA -- What lessons can the health care profession draw from the decline of the Eastman Kodak Company, that household brand and global colossus of the film and chemical business that collapsed into bankruptcy earlier this year?
Plenty, according to LDI Senior Fellows David Asch and Kevin Volpp, writing in the current edition of the New England Journal of Medicine.
Asch, MD, MBA, and Volpp, MD, PhD, point out that much like railroads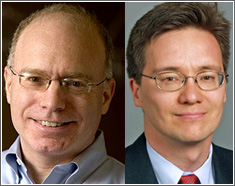 David Asch, MD, MBA, and Kevin Volpp, MD, PhD.
that failed to realize they were in the transportation business, or Kodak, that failed to realize it was in the imaging business, U.S. doctors and hospitals have failed to recognize that their real end product should be health rather than just medical treatments.
"If we could get better health some other way, just as we now produce images without film and transport people and freight without railroads, then maybe we wouldn't have to rely so much on health care," the authors write.
They predict that "In the future, successful doctors, hospitals, and health systems will shift their activities from delivering health services within their walls toward a broader range of approaches that deliver health."
The subject is close to home for both authors. Asch is the new executive director of the Penn Medicine Center for Innovation, which is essentially charged with exploring how health care could best be reinvented; Volpp is the Director of the LDI Center for Health Incentives and Behavioral Economics (CHIBE), whose "Way to Health" project is developing new ways to automate the process of conducting randomized-controlled trials of complex behavioral health interventions online.