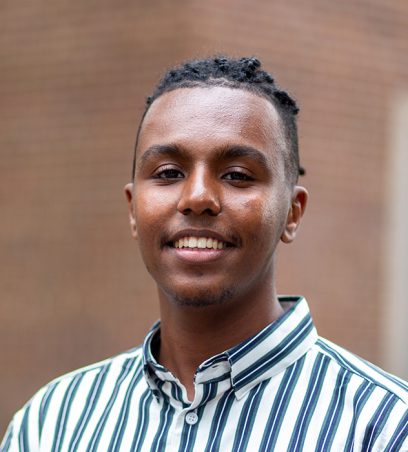 Abeselom Gebreyesus
Abeselom Gebreyesus is a junior at the University of Maryland, Baltimore County where he is pursuing a Bachelor's Degree in Health Administration & Public Policy with a concentration in Public Health and a minor in Photography. Abeselom has always been interested in racial disparities in access to health care and targeting health advertising towards minority populations. After finishing his undergraduate studies, he hopes to combine his interest in health communications, health marketing, and photography to create innovative public health campaigns.
As part of SUMR, Abeselom is involved in two different research projects. One project is under the guidance of Graciela Gonzalez-Hernandez, PhD, and aimed to use social media mining and natural language processing to study medication adherence. The second project he is working on is with Sara Jacoby, PhD, where he studies the feasibility of technology-assisted remote monitoring as a means of injury recovery in black trauma patients in Philadelphia.
At UMBC, Abeselom is the President of the Eritrean-Ethiopian Student Association. Through this position he promotes culture and advocates for important issues. He also serves as the Media Coordinator of the UMBC chapter of the American Mock World Health Organization (AMWHO), an organization aimed at educating students through simulations, tackling global and public health issues. Outside of school, he enjoys photography, reading, listening to music, and works as a pharmacy technician.
Videos & Links
Presentation Slides