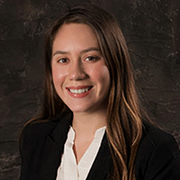 Alejandra Barreto
Alejandra Barreto is pursuing a BS in Health Promotion and Disease Prevention and an MPH at the University of Southern California. Barreto strives to learn more about health care outcome disparities and how policies, particularly immigration policies, affect such outcomes. She plans to attend medical school and aspires to contribute to health policy research to make health more equitable for all.
During SUMR, Barreto is working with Dr. Emily Gregory and Dr. Diana Montoya-Williams on preconception and interconception health for Latinx women. Barreto is conducting descriptive and analytical data work using Medicaid and birth certificate data, and assisting to codec qualitative interviews on women's health care access. The goal is to learn how recent punitive immigration policies and proposed changes to public charge rules have led to a "chilling" effect in which even eligible Latinx women do not access preventive care. The project also explores strategies to mitigate this "chilling effect".
Barreto is a research assistant at USC's Office for HeaIth Promotion Strategy, where she identifies wellbeing outcomes disparities among the USC student population. She also mentors high school students and organizes free health clinics in Tijuana, Mexico. In her free time, she likes going to the beach, hiking, gardening, and trying different boba shops.
Presentation Slides
Video