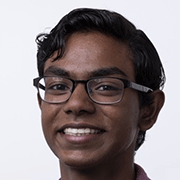 Amey Maley
Amey Maley is a rising junior at Rice University majoring in Statistics and minoring in Poverty, Justice and Human Capabilities. He is interested in pursuing a career in health care within the realm of clinical practice as well as impacting health care systems more broadly. Having gained wide exposure to rural and urban health care settings ranging from Texas to his home state of Illinois, he is interested in improving the design and implementation of best practices within medical environments to more effectively cater to underserved patient populations. Moreover, he is interested in leveraging his background in statistics to employ data-driven methods to better assess and address these care gaps.
During SUMR, Maley is working on two research projects. One project with Dr. Daniel Lee seeks to improve opioid stewardship and disposal for post-operative patients through an automated chat-box tool. He is also working with Dr. Ari Friedman and Dr. Matthew McCoy on a project to develop a database to consolidate and examine data tracking from institutions that provide health information, with particular attention towards the role minority status and demographic background plays in institutional data collection.
At Rice, Maley is a shift leader for the Baylor College of Medicine Patient Discharge Initiative (BCM PDI), supporting social resource screening and linkage for emergency care patients. Additionally, he heads a committee at his residential college and serves on the executive board for Rice's Project Sunshine chapter. During his free time, Maley can be found running while enjoying a podcast alongside Houston's bayous or on the Chicago lakefront.
Presentation Slides
Video