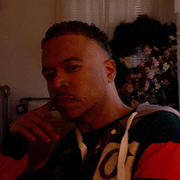 Amilcar DaSilva
Amilcar DaSilva is a rising senior at Hunter College in New York City. Amilcar majors in Public Heath and is part of the Ronald E. McNair Post-Baccalaureate Achievement Program. Amilcar intends to pursue a Ph.D. in Public Health with a concentration in Health Policy and Management. After taking part in an academic program called "Civic Scholars" in which DaSilva worked with the homeless population in New York City, Amilcar realized his passion for wanting to have a long-standing career in health care services that is aligned with Community and Public Health.
During SUMR, Amilcar will be working with Dr. Peter Cronholm and Andrea Bilger in the Mixed Methods Research Laboratory (MMRL). Amilcar will be exploring data management, data analysis, and possibly data collection regarding distinct qualitative and/or mixed methods projects.
Besides being a full-time student, Amilcar is a volunteer for Hope For New York, (HFNY) a charitable organization that serves the underprivileged and marginalized population in New York City. Amilcar also serves as a mentor to other undergraduate students who are looking to transition into a four-year college. In his free time, Amilcar enjoys reading, exercising, music, and poetry.