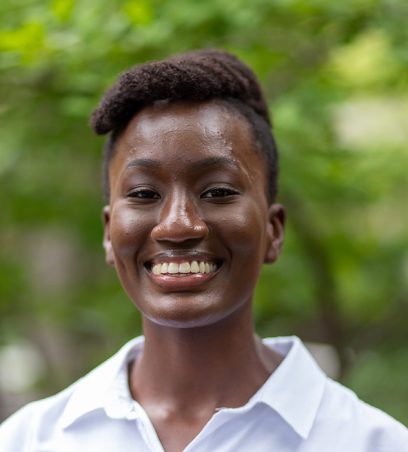 Aminata Jalloh
Aminata Jalloh is a junior at Oakwood University, where she is pursuing a BS in Biology. Upon graduation, she plans to obtain an MD/MPH and begin a career at the intersection of healthcare and social justice. A native of Brooklyn, NY, and the daughter of Sierra Leonean immigrants, Aminata is no stranger to the various injustices that plague disadvantaged populations locally and globally. Understanding how these injustices affect health outcomes is a great passion of hers. In the future, Aminata wants to use an interdisciplinary approach to improve public health, combining clinical medicine, research, and advocacy to champion for change.
As a SUMR Scholar, Aminata is working on two projects. The first, entitled "Public Libraries as Partners for Responding to the Opioid Crisis", is led by Dr. Carolyn Cannuscio and Dr. Maggie Lowenstein. The opioid epidemic is currently one of our greatest public health issues, with data showing that high-traffic zones such as libraries experience a considerable number of on-site overdoses. This project uses qualitative and quantitative research methods to investigate the role of libraries in the opioid crisis and improve readiness to respond to overdoses. The second project, which focuses on Personal Health Information (PHI) privacy, is led by Mr. Arnold Rosoff, Dr. Robert Field, and Dr. Anthony Orlando. As technology advances, it is increasingly easier and more convenient for consumers to share PHI with healthcare providers and others through devices such as "FitBits", smartphone and computer apps, websites, among others. In addition, the advent of widespread genetic testing and creation of genetic databases poses new risks that previous federal regulations don't cover. This research focuses on examining ways to safely use technology to improve health outcomes, while protecting PHI and genetic data.
At Oakwood University, Aminata is the Club Development Officer for the Oakwood Biomedical Association and the Event Coordinator for the Minority Association of Pre-Medical Students, organizations dedicated to exposing minorities to careers in the biomedical sphere and providing them with the resources and knowledge necessary for success. Also, she is the co-founder of "The iLearn Initiative", a student-led organization aimed at improving students' performance in STEM classes. She is also an active member of the "REACH Community Service Organization", that provides mentorship for at-risk children and outreach projects in the local community. In her free time, Aminata enjoys reading, writing, traveling, learning new things, and spending time with friends and family.
Videos & Links
Presentation Slides