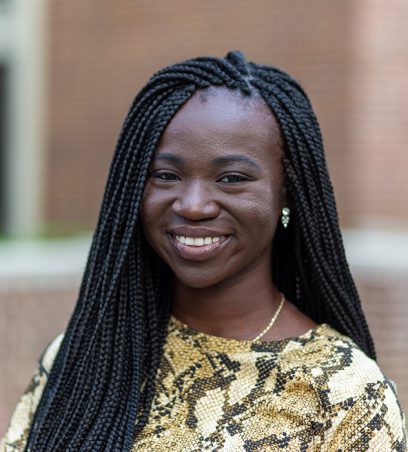 Brittany-Diana Wiafe
Brittany-Diana Wiafe is a senior at the University of North Carolina at Chapel Hill. She is majoring in Health Policy and Management with minors in African Studies as well as Women's and Gender Studies. She will obtain a Master's in Public Health to inform her career goal of strengthening health systems to support women's health. Overall, she aims for her work to address Sub-Saharan African health systems, but is also passionate about addressing the health inequalities that exist in the U.S. health care system.
Brittany is working on two SUMR research projects. With Dr. Terry Richmond, she works on the COTI research project studying the inequalities in pain treatment that African-Americans and Latinos receive. She performs in-hospital interviews with research participants, reviews medical records, and conducts library research with the goal of contributing to the elimination of racial and ethnic pain disparities. In addition, Brittany works with Dr. Harold Schmidt studying the ethics of monitoring medication adherence among HIV-positive pregnant women. She conducts structured desk-based literature, policy and news reviews on this topic to contribute to an aggregate review of research projects monitoring medication adherence in this population.
At the University of North Carolina at Chapel Hill, Brittany is the co-president of the Organization for African Students' Interests in Solidarity. She also serves as a mentor to youth in the Chapel Hill community and, in the fall, will begin volunteering with the Orange County Literacy Center where she will aid African immigrants with English acquisition skills. Brittany is also a dancer with UNC's African Dance Troupe, Zankiliwa. In addition, she enjoys listening to music (particularly Neo-Soul and Afrobeats), reading, and spending time with her loved ones.
Videos & Links
Presentation Slides