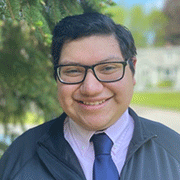 Bryan Escobar
Bryan Escobar is rising junior at Worcester State University majoring in Nursing, with a minor in Chemistry. Bryan is considering a concentration in Women's and Gender studies. Bryan grew up in Worcester, where he realized that Latinx families did not have equal access to health care services. After graduation, Bryan plans on attending medical school and intends to pursue an MD/MPH to further understand the role of community-based public health interventions and the development of health conditions. He is interested in researching the application of evidence-based practices to eliminate health care disparities, and increase access to affordable and equitable health care for Latinx communities and other minority groups in the United States.
During SUMR, Bryan is working on two projects. With Dr. Elinore Kaufman, he will work on the "Improving Trauma Patients' Connections to Mental Health Care" research project. Through the project, Bryan will learn about factors that affect the referral and utilization of mental health services to ultimately improve patient access to such services. With Dr. Adriana Perez, Bryan will work on the "Tiempos Juntos para la Salud" intervention study. Through this research initiative, he will assist in evaluating how physical activity interventions, empowerment education, and the formation of social and cultural supports can promote cardiovascular health, cognitive health, and sleep patterns in the older Latino community.
At Worcester State, Bryan is an Honors student and an Office Assistant at the Office of International Programs. He is also a member of the Worcester State University Chapter of the Student Nurses Association. Outside of research and academics, he likes to read, start new hobbies, and spend time with friends and family.