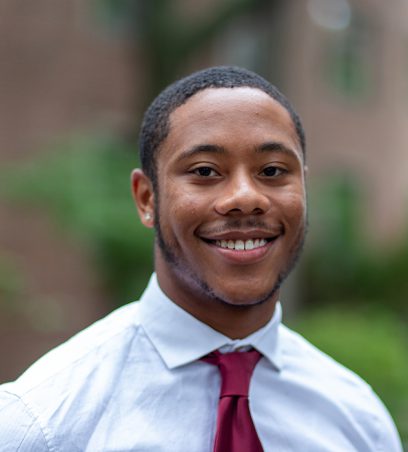 Bryson Houston
Bryson Houston is a rising junior at Morehouse College, where he is pursuing a biology degree on the pre-med track. After Morehouse, Bryson plans to attend medical school with goals of becoming an orthopedic surgeon. Since his youth, Bryson has always been active whether it was playing several years on the AAU basketball circuit or winning a collegiate conference championship in track and field. The many bumps, bruises, aches, and pains drove his curiosity on the structure and function of the human body and how one can maintain it for as long as possible. Given his love for service and science, medicine is a path that he was destined to take.
For the SUMR program, Bryson has the pleasure of working on two projects that is opening his eyes to the exciting world of health service research. The first project is The Healthy Patterns Study lead by Dr. Nancy Hodgson and project Manager Laurel Caffee. This project has three specific aims: to monitor interventions on Persons with Dementia quality of life and circadian rhythm disorder symptoms, monitor the effects of the health patterns activity intervention on caregiver outcomes, and the mediating effect of neuroendocrine activity on changes in CRD symptoms. The second project Bryson is a part of is through the Center of Health Incentives and Behavioral Economics. With CHIBE, Bryson is working alongside Ms. Laurie Norton and Mr. Michael Josephs to develop interventions to reduce rehospitization rates among patients with congestive heart failure.
At Morehouse College, Bryson served as one of the sophomore representatives for the Health Careers Society through the Office of Health Professions. He is also a part of Phi Delta Epsilon, a national pre-medical fraternity that enhances undergraduates with knowledge and wisdom of how to tackle the next phase of life. Outside of Morehouse, Bryson likes to spend his time giving back to the community as a mentor-tutor, staying fit and active, and enjoying quality time with friends.
Videos & Links
Presentation Slides