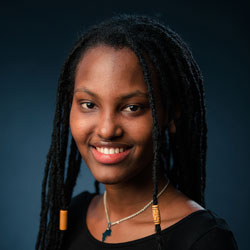 Gloria Mpundu
Gloria Mpundu is a rising junior at the University of Pennsylvania, where she is pursuing a Nursing degree and a minor in global health. Mpundu got interested in research after interning at an HIV/AIDS research center, Project San Francisco, in Rwanda. She hopes to pursue higher education in Nursing and public health and aspires to contribute to health policy research to address various health disparities globally.
Mpundu is working on two SUMR research projects. With Dr. Eileen Lake, Mpundu is studying disparities in Neonatal Abstinence Syndrome infant outcomes and related nursing system factors to examine the potential contribution of nursing to better the outcomes. She is also working with Dr. Liisa Laine to explore the role of emerging health technologies in relation to the rising demand of healthcare professionals especially during pandemics or in long-term care facilities. She is excited to gain hands-on research experience and other skills necessary to prepare her for graduate education and a career in research.
At Penn, Mpundu is both a Penn World and Perry World Scholar. She is a member of the New Spirit of Penn Gospel Choir, Society of African Internationals at Penn and UNAIDS, Penn chapter. Outside of school, she enjoys learning new languages, spending time with friends and family, and listening to music.
Videos & Links
Presentation Slides