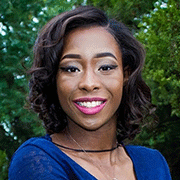 India Jackson
India Jackson is a rising senior at Howard University majoring in Health Human Performance and Leisure with a concentration in Sports Medicine, with minors in Chemistry and Biology. After graduation, India plans on attending medical school and obtaining as much knowledge as possible so she can begin uplifting her community through science. Her current fields of interest are anesthesiology, orthopedic surgery, and obstetrician/gynecology with a sub-specialty in Maternal Fetal Medicine.
During SUMR, India is working on a research project with Dr. Meghan Lane-Fall. The project focuses on Handoffs and Transitions in Critical Care, or HATRICC, and seeks to standardize handoffs and transitions of critical patients so that patients have the best outcomes.
At Howard, India is a three-time school record-holder for the Howard Swimming and Diving team. Additionally, India is a Spring 2021 initiate of Beta Kappa Chi Honors Society and Iota Phi Lambda Sorority Incorporated. Outside of school and swimming, India loves to volunteer at the American Red Cross, where she is also the scheduling team leader for volunteers in the Philadelphia region. In her free time, India enjoys listening to music, particularly R&B and rap, sleeping, eating, and binge-watching an array of TV shows.