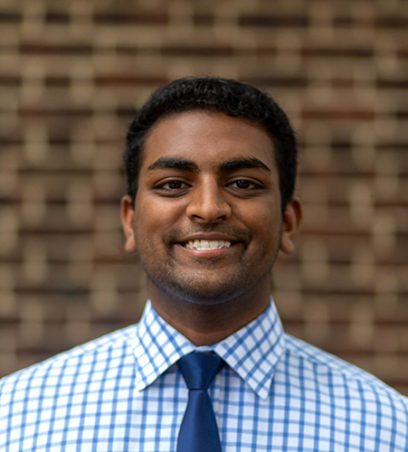 Jay Sangani
Jay Sangani is a third year student at Case Western Reserve University (CWRU) in Cleveland, Ohio. He is pursuing dual Bachelor degrees in Systems Biology and Economics. His interests in research and advocacy in the health services field have fueled his passion for a career focused on increasing access to quality healthcare that is equitable, efficient, and affordable for all stakeholders and users. Upon graduation, Jay plans to enroll in a graduate program in Healthcare Management and Policy. He is planning to supplement his graduate training with a medical degree in order to fulfill his career goal of working at the intersection of clinical medicine, academia, and policy creation.
This summer, Jay is a mentee for Dr. Hart's, Ms. Karen Zhang's, and Ms. Mei-Lynn Hua's research projects. As part of Dr. Hart's project, Jay obtains data revealing types of choice architecture physicians use when offering healthcare choices to family members to critically ill patients and he quantifies the frequency with which physicians use certain choice frames. As part of Mei-Lynn Hua and Karen Zhang's research project, Jay will examine the relationships between health insurance plan benefit design, enrollment decisions, and healthcare utilization in the setting of the ACA exchanges through intensive data analysis using Stata software.
At CWRU, Jay is the chair and founder of the University Wellness Council. He collaborates with wellness groups on campus and the University Wellness Department to improve health education programming and lead projects to improve University Health and Counseling services. He serves as the Undergraduate Student Lead of the Triple Aim in Higher Education Collaborative for CWRU. Jay is also a representative of the College of Arts and Sciences for the Undergraduate Student Government where he works on campus sustainability and safety initiatives. As an avid student researcher, he currently works as a research intern at the Billion Bottle Project, a nonprofit organization that creates affordable die-based chemical sensors for solar water disinfection users in impoverished communities. In his free time, Jay enjoys spending time outdoors, playing tennis and basketball, and exploring new foods!
Videos & Links
Presentation Slides