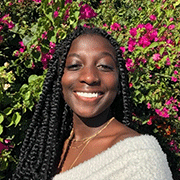 Licia Bravo
Licia Bravo is a rising senior at Xavier University of Louisiana, pursuing a BS in Biology with a minor in Chemistry. She is interested in furthering her education at medical school to obtain an MD. She wants to focus her work on health disparities in underserved populations. After visiting her mother's hometown in Liberia, Licia came to the conclusion that she would like to use her degree to work both domestically and internationally to help lessen health inequalities.

During SUMR, Licia will be working on a research project on family planning with Dr. Courtney Anne Schreiber and Ms. Arden McAllister in the Peace research division. Licia will assist with a systematic review of PREP for HIV prevention and perform chart reviews for a study on the use of mifepristone for labor induction.

At Xavier University of Louisiana, Licia works as a biology tutor as well as a chemistry drill instructor. She is the project coordinator for Pair Care, a volunteer organization that works with children who have special needs at a local school. In her free time, she likes to read, play piano, and try new restaurants with her friends.