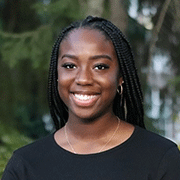 Madison Burnard
Madison Burnard is a rising senior in the Schreyer Honors College at the Pennsylvania State University double majoring in Biobehavioral Health and General Science (Biological Sciences and Health Professions option) and double minoring in Human Development & Family Studies and Diversity & Inclusion in Health and Human Development on a pre-medical track. After graduating, Burnard plans to attend medical school in her pursuit of becoming a physician. Burnard has a strong passion for health disparities, especially amongst disadvantaged communities.
 Burnard will be working with two mentors for the duration of the SUMR program. Alongside Dr. Maya Clark-Cutaia, Burnard will be working on a project looking at disparities in head and neck cancer and their impact on treatment outcome. Additionally, she will be working on a project looking at the impact of dietary intervention and BMI on hemodialysis patients. Furthermore, she will be looking at Covid-19 vaccine hesitancy in hemodialysis patients. With her other mentor, Dr. David Lydon, Burnard will be working on two projects as a part of the AHA! Lab. First, she will be looking at the relationship between flourishing and brain structure. Additionally, she will be working in the ABCD Study with Dr. Amanda McGowan looking  at caregiver influences on children's self-regulation in everyday life. 
At Penn State, Burnard serves as the president of the organization she founded, Minorities in Schreyer, which aims to recruit, retain, and support underrepresented students in the Schreyer Honors College. Burnard is also a member of the Presidential Leadership Academy, which is a group of 90 competitive students that work alongside the President and other university leadership in deliberating on social issues that are relevant to the university, and building leadership skills. Moreover, Burnard sits on the Schreyer Honors College Dean's Student Advisory Board, as well as on the Schreyer Honors College Scholar Alumni Society Board subcommittee for Diversity, Equity, and Inclusion.
Furthermore, Burnard works as a Clinic Intern at the Penn State University Health Services where she does patient intake and shadows healthcare professionals. She also volunteers as a campus tour guide through an organization called the Student Minority Advisory and Recruitment Team, which works to recruit more minorities to the University. Lastly, Burnard works as an undergraduate student researcher in a lab called project SIESTA, which looks at parent and child contributions to sleep patterns, and is currently writing her Honors Thesis on the role of children's sleep in predicting academic outcomes in the transition to Kindergarten.