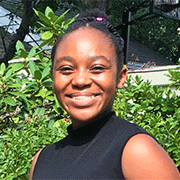 Mamaswatsi Kopeka
Mamaswatsi Kopeka is a rising senior at Brown University concentrating in Public Health, with an interest in global health. After graduation, Kopeka plans on pursuing a PhD with a focus on the intersection between global health, health systems, and equity in Sub-Saharan Africa. Her areas of interest include HIV/AIDS in Southern-Africa, as well as Maternal and Child Health with a focus on program implementation, intervention design, health systems, and strengthening.
During SUMR, she is working on two research projects. With Professor Julia Lynch, Kopeka conducts archival research to understand racial politics and the measurement of health inequalities in cross-national perspectives. With Professor Harsha Thirumurthy, she is involved in research around measuring risk and time preferences, and understanding the association between these preference measures and HIV health outcomes.
At Brown, Kopeka is a member of the International Students' Advisory Board and the African Students' Association. She is also part of the Women's Health Interventions and Transitions (WHIT) research group. Lastly, she serves as a mentor through the Matched Advising Program for Sophomores (MAPS) and a tutor through the Brown Refugee Youth Tutoring and Enrichment (BRYTE) program. She generally enjoys learning new languages, immersing herself in a good novel (especially by contemporary African women writers), or trying new recipes.
Presentation Slides
Video