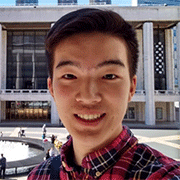 Michael Tu
Michael Tu is a rising sophomore at the University of Pennsylvania majoring in Mathematical Economics, with a prospective minor in Health Care Management and Neuroscience. He is enthusiastic about health policy, health care payment structures, and epidemiology.

During SUMR, Michael is working on two research projects. With Professor Julia Lynch, Michael conducts comparative case studies of health records to address global health equity. With Professor Juan Pablo Atal, Michael uses quantitative methods to examine the intersection between health, labor, and education.

At Penn, Michael is heavily involved with the performing arts community. He is a cellist in the Penn Symphony Orchestra, a bass in an acapella group, and a student board member of the Institute of Contemporary Art. He is also Cultural Chair of Penn's Chinese Student Association and enjoys being a part of the Asian community on campus. In his free time, Michael enjoys listening to music, cooking, and playing a variety of sports (beach volleyball, tennis, and spikeball).