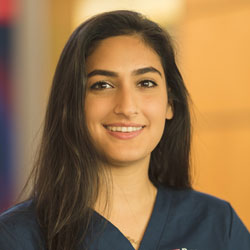 Parasteh Malihi
Parasteh Malihi is a first-year dental student at the University of Pennsylvania School of Dental Medicine, where she is pursuing a Doctor of Dental Medicine and Master in Law. She graduated from George Mason University, where she earned her BS in Psychology in 2017 and her MS in Biology in 2019. During her undergraduate career, Malihi conducted research exploring working memory capacity and errors following interruptions, which led to a publication in the Journal of Applied Research in Memory and Cognition. While her professional interests have grown to include dental public health and health care policy, she is enthusiastic to diversify her background and skill set through the SUMR program. 
During SUMR, Malihi is working with two mentors, Dr. David Mandell and Dr. Krzysztof Laudanski, on two projects. The first project, under Dr. Mandell, aims to identify barriers to dental care for adults with developmental disabilities. The second project, under Dr. Laudanski, focuses on using ICU data to analyze behavioral patterns of healthcare providers in the University of Pennsylvania Health System. In the dental school, Malihi is a part of the executive board for AADMD. Additionally, she is a member on the Student Health Advisory Board. 
In her free time, Malihi enjoys playing on her school's intramural soccer team, reading, and traveling. 
Videos & Links