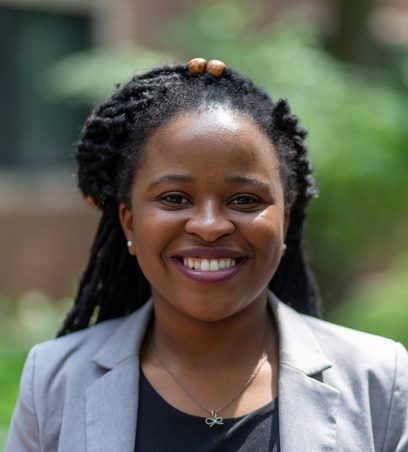 Phiwinhlanhla Ndebele-Ngwenya
Phiwinhlanhla (Phiwie) is a junior majoring in Biology and Mathematics at Philander Smith College who is originally from Zimbabwe. She hopes to pursue a career as a physician scientist and contribute to medical research that informs healthcare for the benefit of underserved communities. Phiwie's passion for healthcare emanated from her experience as a teacher in rural Zimbabwe. As a teacher, she mentored the girls and local women where she realized the huge lack of access to proper reproductive healthcare for the rural community. She resolved that her mark in healthcare would be to help low-income women and children gain access to healthcare that empowers them to make behavior changes that improve quality of life. Phiwie has a unique ability to analyze, empathize and counsel people. She believes that everyone should have a chance to realize and reach their fullest potential. She is determined to break the systemic barriers against women and other underrepresented groups by increasing access to quality healthcare education.
Phiwie is going to work on two projects during the SUMR. She is going to work with Dr Mary Boland from the Department of Biostatistics, Epidemiology & Informatics in investigating Environmental Factors that May Dispose Women to Adverse Pregnancy Outcomes (e.g.,Stillbirth) and with Dr Meeta Prasad Kerlin to perform a systematic review of the literature to better understand the factors underlying the gap between actual practice and the evidence base for care of patient with acute respiratory distress syndromes (ARDS).
Phiwie is a social justice institute fellow at Philander Smith College where she embraces the various facets of social equity and has platform to continue to learn more about the healthcare disparities among rural women in not only the developing world but also in the developed world. Phiwie serves as the vice-President of the international Student Organization on campus. She co-founded a project that promotes public health by empowering teenage mothers living and working on peasant farms in Zimbabwe with means of sustaining themselves and their children using income generating projects. The project was recognized by the Clinton Global Initiative University. Phiwie enjoys sight-seeing, dancing to Nigerian music with her friends, reading biographies and binge- watching "The Office".
Videos & Links
Presentation Slides