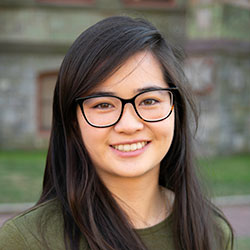 Rachel Wu
Rachel Wu is a rising senior at the University of Pennsylvania majoring in Computational Biology and minoring in Chemistry. She plans to attend medical school and intends to pursue an MPH or a PhD pertaining to public health studies. Wu's interest in health care service research stems from her experiences in her Medical Sociology and Health Care Management classes, taken in freshmen and sophomore years, when she learned about the significant disparities between the ways patients from different demographics are treated. Wu is inspired by the far-reaching impacts, macro-economically and on a personal basis, resulting from healthcare service research.
During SUMR, Wu is working with Dr. Austin Bean to use a neural network for natural language processing to parse through infant medical records from the CHOP to identify what and how much infants are eating. The goal is to identify any correlation between the amount and type of food infants receive and later health outcomes. Wu is also working with Dr. Ari Friedman on a project that investigates the management of abdominal pain in emergency departments (ED) across the US, specifically exploring the outcomes of older adults presenting with general abdominal pain on busy days in the ED as compared to patients with more highly prioritized diseases and symptoms. The goal of the project is to assess the impact of hospital policies, that incentivize faster care and streamlined protocols for prioritized diseases, on patients who have abdominal pain.
Outside of academics, Wu enjoys giving back to the global and local community. She is the President of the Penn undergraduate chapter of One for the World, an effective altruism club dedicated to changing charitable giving to end extreme poverty. The club is part of a non-profit organization and one of many international chapters. Before the pandemic, she and the club raised over $19k in recurring annual pledges to be distributed to the most effective non-profit charities fighting extreme poverty. Wu is currently volunteering with a second-grade class at the Andrew Jackson School in Philadelphia, assisting the students with their reading comprehension. She also volunteers at the Veterans Affairs Hospital in Philadelphia, where she interviews veterans and transcribes their life stories, through the My Life, My Story program. 
Videos & Links
Presentation Slides