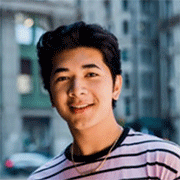 Sovandarid Prom
Darid Prom is a rising sophomore at Swarthmore College with a prospective major in Health Economics & Policy. They are a proud Cambodian queer immigrant, a powerfully impactful public speaker, and an accomplished and passionate LGBTQ+ advocate. Throughout the years, they have worked as a national student leader on the GLSEN's National Student Council, as well as a campus ambassador with GLAAD to bring awareness to the health disparities within the LGBTQ community. Their parents are survivors of the Khmer Rouge genocide in Cambodia, and their family immigrated to the United States when they were just 10 years old. This experience has greatly informed Prom's commitment to issues of health inequality. In the future, they want to help establish more equitable ways to address health concerns for low-income minority communities.
During SUMR, Prom is working on two research projects. With Dr. Elizabeth Nesof, they are working to collect original data on measures of the built environment at locations of drug overdose to illustrate the rooted problem of environmental racism and its impact on drug use with the current opioid crisis. With Dr. Blanca Himes, they are working to measure disparities in various diseases such as COVID-19 and asthma to understand factors such as sex, race and ethnicity, and socioeconomic factors that are associated with them among U.S. adults.
On Swarthmore's campus, Prom served on the executive board of the Swarthmore Queer Union, as well as working to provide comprehensive and sexual health resources in an equitable way through the Sexual Health Advocate organization. They are also a Student Academic Mentor at Swarthmore.
Presentation Slides
Video