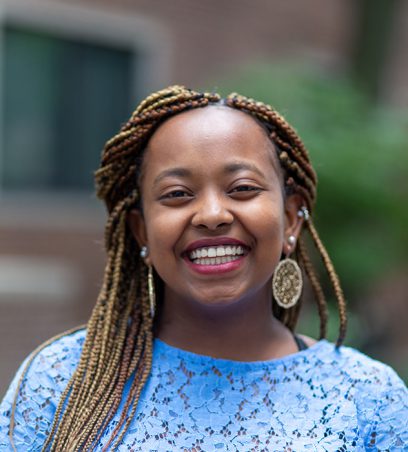 Tilaye Seblework
Tilaye is studying Nursing and Nutrition at the University of Pennsylvania. Her main interests are health policy, evidence-based interventions, prevention practices, public health interventions, and implementation science. As an international student from Ethiopia, Tilaye has had the chance to first-hand experience two different healthcare systems and acknowledge common gaps as well as disparities. Her classes in the Nursing School as well as her time spent shadowing at a hospital in Ethiopia have inspired her to join the Health Services research field. She hopes to pursue a PhD in Nursing Science after completing her BSN and aspires to become a Nurse researcher and educator in order to promote holistic and evidence-based care.
As part of the SUMR program, Tilaye is working on two projects. For the first project, Tilaye is working with Dr. Meghan Lane-Fall on a study that focuses on Post ICU Syndrome and how it manifests in patients after they leave the hospital as physical changes, cognitive effects, or emotional consequences. Her second project, with Dr. Robin Stevens, investigates youth perspectives on biomedical prevention pertaining to HIV/AIDS especially within populations of young men who have sex with men (MSM) with the intent of improving adherence and acceptability of biomedical prevention.
In addition to her academic interests, Tilaye likes reading, songwriting, and is a remote coordinator and mentor at a nonprofit college counselling and test preparatory student-led organization.
Videos & Links
Presentation Slides