Health Equity
Samuel P. Martin, III, MD Memorial Lecture with Utibe R. Essien, MD, MPH
In Pursuit of Equity: Race, Novel Drugs, and Health in the U.S.
The 2021 Samuel P. Martin, III, MD Memorial Lecture, presented by Utibe R. Essien, MD, MPH, was co-sponsored by Penn LDI, the Division of General Internal Medicine, the National Clinician Scholars Program, and the Penn Master of Science in Health Policy Research ​Program.
---
Speaker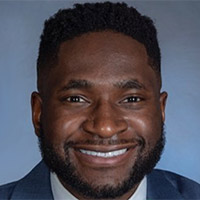 Assistant Professor of Medicine, University of Pittsburgh, and General Internist and Health Disparities Researcher, VA Pittsburgh Center for Health Equity Research and Promotion
---
About the Speaker
Dr. Utibe R. Essien is an assistant professor of medicine at the University of Pittsburgh, and a general internist and health disparities researcher in the VA Pittsburgh Center for Health Equity Research and Promotion. His research focuses on racial and ethnic disparities in the use of novel therapeutics in the management of chronic diseases including atrial fibrillation.
Dr. Essien has recently applied this research framework to the COVID-19 pandemic, rapidly becoming an expert in the health disparities that are disproportionately affecting minority communities with COVID-19. His work has been featured in JAMA and the NEJM, and he has been interviewed by a wide range of national media outlets, including the New York Times, Washington Post, and NPR.
Dr. Essien's leadership in advancing health equity during COVID-19 led him to be named among the "Top 50 Experts to Trust During a Pandemic" by Medium, and he was recently recognized by Business Insider as one of "30 Leaders under 40 Transforming Healthcare."