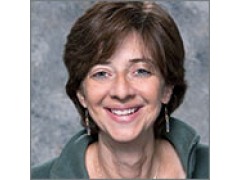 Penn LDI's Passionate In-House Policy Wonk
Janet Weiner, PhD, MPH needs little introduction to the Penn LDI community. Even if you don't know Janet, you've probably read her work on LDI's Health Policy$ense blog, which she founded and edits, and where she has covered a lot of ground. Or maybe you've spotted her on Twitter, to which she brings both her punchy wit and health policy expertise.
She is the creator and editor of this 50@50 series, so it's only fitting that we wrap up the series with an ode to Janet.
Janet is Co-Director of Policy at LDI, where she leads LDI's policy engagement and research translation together with David Grande. She works with multidisciplinary teams to conduct health services research, and to develop strategies to disseminate research results to policymakers.
In her over 20 years at LDI, Janet has brought her sharp writing and analytic skills to her collaboration with many of LDI's Senior Fellows, spanning everything from work with Terry Richmond and the Firearm Injury Center at Penn, to deep dives on health insurance markets with Scott Harrington, networks with Dan Polsky, health workforce with Mark Pauly and Mary Naylor, and countless others. Actually, Janet has had a hand in virtually every one of the 120+ Issue Briefs LDI has ever produced.
Prior to coming to Penn, Janet was a Research Associate for the American College of Physicians, where she researched and wrote College position papers on health policy, ethics, and clinical practice. She holds a journalism degree from Northwestern University, a master's degree in public health from Johns Hopkins University, and a doctoral degree in urban planning from Penn.
What is apparent to anyone who works with Janet is her passion – whether it be about her work, her children, issues she cares about, her colleagues, and certainly the Eagles. We're lucky to have her.