50th Anniversary Symposium
Shaping the Future of Health Care
In a milestone year for LDI and a pivotal moment in national health care policy, leading thinkers from Penn, industry, media and government gathered in a collaborative exchange on Oct. 5 and 6, 2017 to explore the continued challenges of health care access, affordability, value and disparities. 
Oct. 5, 2017

to

Oct. 6, 2017
50@50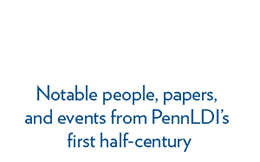 We wrap up this series with an ode to its creator, Janet Weiner. 
50th Story Stack from /ldi-impact

The degree programs in health care management, policy and research established through LDI have produced more than 2,500 Penn graduates who are leaders in academia, government agencies, foundations, health care organizations, and industry.

LDI digs deep to understand the mechanisms affecting populations made vulnerable by demographic or geographic disparities. LDI researchers have analyzed issues from appointment availability for Medicaid-eligible patients, to neighborhood effects on health outcomes, to the "leaky pipeline" for minorities in health professions.