Population Health
Fifth Annual Population Health Science Research Workshop
Health Equity in the Age of COVID-19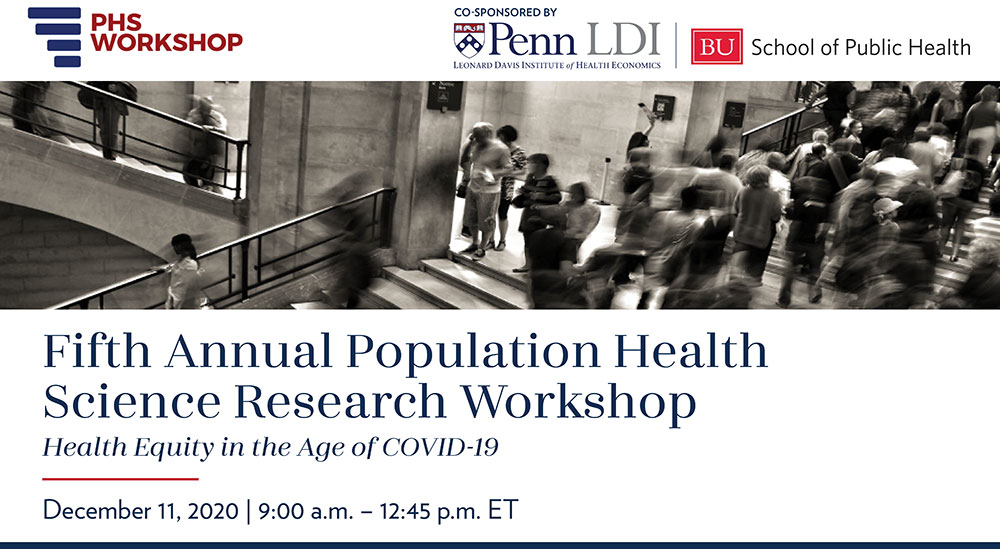 The Fifth Annual Population Health Science Research Workshop (PHS2020), sponsored by Penn LDI and Boston University School of Public Health, was held virtually and brought together scholars from economics, epidemiology, demography, sociology, and related disciplines to present papers on topics related to population health. The workshop's theme, "Health Equity in the Age of COVID-19," included both papers specific to health equity and COVID-19, and papers that focus on critical population health issues that have become even more salient as a result of the pandemic. The workshop prioritizes rigorous empirical work on methodological or content frontiers of population health research. 
As in prior years, the virtual workshop enabled in-depth discussion of presented work, including a poster session, a paper session, and concurrent breakout sessions focused on key topics of interest. Please see full agenda below.
Questions? Contact PHSWorkshopPenn@gmail.com.
---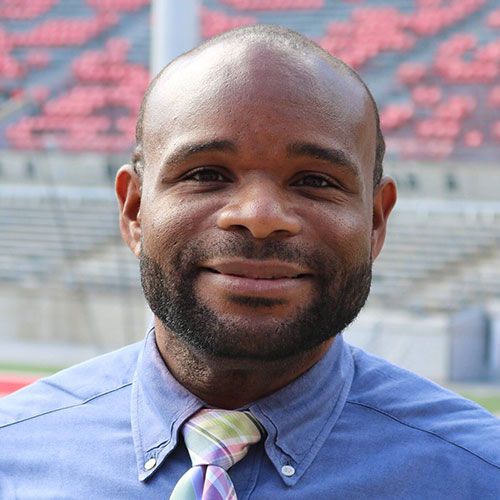 KEYNOTE SPEAKER
Trevon Logan, PhD
Hazel C. Youngberg Distinguished Professor of Economics
Ohio State University
Dr. Trevon Logan is a Research Associate at the National Bureau of Economic Research. He has held visiting appointments at Princeton University's Center for Health and Well-Being and at the University of Michigan, where he was a Robert Wood Johnson Foundation Scholar in Health Policy Research. He is also an affiliate of the Initiative in Population Research, the Center for Human Resource Research, the Food Innovation Center, and the Criminal Justice Research Center at Ohio State. He serves on the editorial boards of Explorations in Economic History, Historical Methods and Demographic Research. Dr. Logan specializes in economic history, economic demography, and applied microeconomics.
---
AGENDA
9:00–9:10 AM: WELCOME & INTRODUCTION
Atheendar Venkataramani, University of Pennsylvania
9:10–10:25 AM: COMBINED SESSION
Assessing the Impact of COVID-19 Pandemic on U.S. Mortality: A County-Level Analysis
Presenters: Andrew Stokes and Dielle Lundberg, Boston University
Discussant: Courtney Boen, University of Pennsylvania
Identity During a Pandemic: COVID-19 and Ethnic Divisions in the U.S.
Presenter: Jakina Debnam Guzman, Amherst College
Discussant: Willa Friedman, University of Houston
Peer Effects and Health Care Consumption: Evidence from Spousal Health Shocks
Presenter: Zirui Song, Harvard University
Discussant: Jacob Bor, Boston University
10:25–10:35 AM: BREAK
10:35–11:35 AM: CONCURRENT BREAKOUT SESSIONS
Session 1: Racial Disparities
Moderator: Julia Raifman, Boston University
10:35–10:55 AM
The Long Arm of the Clean Air Act: Pollution Abatement and COVID-19 Racial Disparities
Presenter: Jill Furzer, University of Toronto
10:55–11:15 AM
Racial Disparities in Mortality from the 1918-19 Influenza Pandemic in the U.S.
Presenter: Elizabeth Wrigley-Field, University of Minnesota
11:15–11:35 AM
Reductions in 2020 US Life Expectancy due to COVID-19 and the Disproportionate Impact on Black and Latino Populations
Presenter: Theresa Andrasfay, University of Southern California
Session 2: Health Services and Prevention
Moderator: Atheendar Venkataramani, University of Pennsylvania
10:35–10:55 AM
Women's Access to Family Planning: Experimental Evidence on the Role of Peers and Vouchers
Presenter: Mahesh Karra, Boston University
10:55–11:15 AM
COVID-19 Surgical Abortion Restriction Did Not Reduce Visits to Abortion Clinics
Presenter: Martin Andersen, University of Kansas
11:15–11:35 AM
The Origins of Socioeconomic Inequality in Cancer Mortality – Evidence from Denmark
Presenter: Sonja Settele, University of Copenhagen
Session 3: Mental Health
Moderator: Ellen Moscoe, The World Bank
10:35–10:55 AM
Mental Health Costs of Lockdowns: Evidence from Age-Specific Curfews in Turkey
Presenter: Onur Altindag, Bentley University
10:55–11:15 AM
Lifestyle and Mental Health Disruptions During COVID-19
Presenter: Osea Giuntella, University of Pittsburgh
11:15–11:35 AM
COVID-19 Eviction Moratoriums and Population Mental Health: Evidence from a Natural Experiment
Presenter: Kathryn M. Leifheit, University of California, Los Angeles
Session 4: Immigration, Safety Net Programs, and Public Goods
Moderator: Ryan Brown, University of Colorado, Denver
10:35–10:55 AM
Effects of a Community-Driven Water, Sanitation, and Hygiene Intervention on Water and Sanitation Infrastructure, Access, Behavior, and Governance: A Cluster-Randomized Controlled Trial in Rural Democratic Republic of Congo
Presenter: John Quattrochi, Simmons University
10:55–11:15 AM
Citizen Attitudes to Undocumented Immigrant's Access to Welfare: COVID-19 and Healthcare
Presenter: Cesar Vargas Nunez, Stanford University
11:15–11:35 AM
Spreading Fear: The Announcement of the Public Charge Rule on Enrollment in Child Safety-Net Programs
Presenter: Jeremy Barofsky, Ideas42
11:35–11:45 AM: BREAK
11:45 AM–12:15 PM: KEYNOTE ADDRESS
Trevon Logan, Ohio State University
12:15–12:45 PM: OPEN DISCUSSION & SYNTHESIS
 
---
Scientific Committee: