Improving Care for Older Adults
Partnering with Nursing Homes to Improve Care Delivery: Aligning Research with Practice
A Conversation with Jessica Israel, MD, Gregory Johnson, MD, Arif Nazir, MD, FACP, and Jasmine Travers, PhD, RN, moderated by Scott Halpern, MD, PhD
Open to Penn Affiliates

Following the profound impact of the COVID-19 pandemic on the nursing homes and their residents, nursing home leaders are now navigating a new normal. Given the uncertainties about best practices in this new normal, academic-private research partnerships hold promise to test new care delivery models and identify practices that will help rebuild the nursing home industry to be sustainable, equitable, high-quality, and person-centered. What opportunities exist for collaboration between researchers and nursing home leaders? What areas would benefit most from new evidence to guide care delivery? And what would a successful collaboration look like? Join our panel of nursing home leaders as they discuss opportunities for innovation and partnership with researchers.
Co-sponsored with the PAIR Center's Roybal Center on Palliative Care in Dementia.
Speakers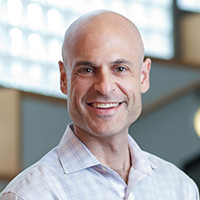 Professor, Medicine and Professor, Epidemiology, Perelman School of Medicine
---
Requirements for Event Attendance
Boxed lunches will be provided. The following requirements will apply to this event:
All attendees must follow Penn's current public health guidance.
Requirements may change prior to or on the day of the event.