News
Adriana Perez Wins School of Nursing Outstanding Nurse Educator Award
Cited for "Immense Impact on Students"
Penn LDI Senior Fellow and Assistant Professor Adriana Perez, PhD, ANP-BC, FAAN, has been named winner of the annual University of Pennsylvania School of Nursing Graduate Student Organization Outstanding Nurse Educator Award.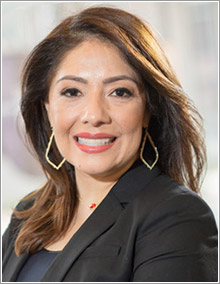 The official School of Nursing award presentation, originally scheduled for May 15, but cancelled due to the COVID-19 crisis, will now be staged as a virtual event at a soon-to-be-announced date.
Designed to provide social, academic and professional development supports, and foster community and collaboration among Nursing Masters students, the Graduate Student Organization includes all master's students enrolled in the Graduate Division.
'Immense impact'
The award cited Perez for her "immense impact on students' ability to better understand how to be effective communicators and team players."
The board said Perez "was nominated specifically for her service as a leadership educator by Doctor of Nursing Practice (DNP) students. Her course elevates the professionalism of DNP students by focusing on ways to improve themselves as individuals and as leaders within the larger health care system."
Penn LDI CICADA scientist
Perez is also a Resource Centers for Minority Aging Research (RCMAR) scientist in Penn LDI's Center for Improving Care Delivery for the Aging (CICADA), where she studies the influence of community level factors and resource utilization on the well-being of home dwelling, multi-ethnic older adults with dementia. She has previously been a Congressional Fellow supported by the Atlantic Philanthropies and the Centers for Diseasae Control and Prevention (CDC) Healthy Aging Program, working with Latino city planners and local policymakers.
Among her other recent mentorship projects, Perez guided Penn Nursing Seniors José Maciel and Antonio Renteria in a project focused on improving the health of migrant workers in the mushroom farms around Kennett Square. The project was awarded the University of Pennsylvania President's 2019 Engagement Prize.
Perez, also a board-certified Adult Nurse Practitioner at North Hancock Mercy LIFE in North Philadelphia, has been speaking out about the unique needs of that neighborhood's community of elderly Latinos during the COVID-19 pandemic.