COVID-19
News
Alison Buttenheim Appointed to NAM COVID Vaccine Committee
The Work is Focused on Developing a Framework for Vaccine Allocation
Alison Buttenheim, LDI's Director of Engagement and Associate Professor of Nursing and Health Policy at the University of Pennsylvania School of Nursing has been appointed to National Academy of Medicine ad hoc committee on Equitable Allocation of Vaccine for the Novel Coronavirus.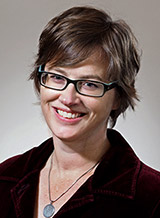 Domestic and global focus
The goal of the committee is to develop an overarching framework for vaccine allocation to assist policymakers in the domestic and global health communities in planning for equitable allocation of vaccines against COVID-19.
Buttenheim, PhD, MBA, is also an Associate Director of Penn's Center for Health Incentives and Behavioral Economics (CHIBE).
Vaccine policy expert
A social scientist and public health researcher, she is widely recognized as an expert in the field of vaccine acceptance and vaccine exemption policy. In her work in the US and in Indonesia, Laos, Peru, and South Africa, she designs and evaluates trial interventions to improve uptake of evidence-based infectious disease prevention programs.
LDI Adjunct Senior Fellow Daniel Polsky, PhD, MPP, now a Bloomberg Distinguished Professor of Health Policy and Economics at Johns Hopkins University, has also been appointed to the NAM COVID vaccine committee. Polsky is the former Executive Director of LDI and former Professor at both the Penn Perelman School of Medicine and the Wharton School.