Health Equity
News
CDC Minority Health Official Keynotes Penn MLK Health Equity Symposium
"Health Disparities are the Problem and Health Equity is the Goal" Says Leandris Liburd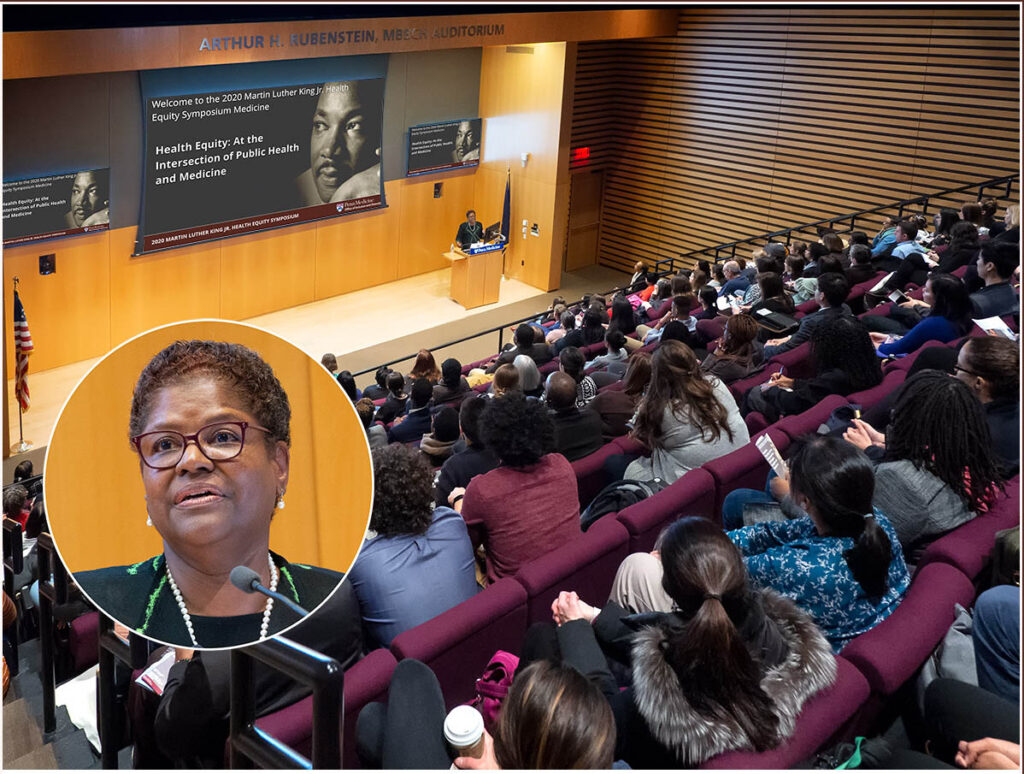 Using personal experiences to underscore her point that social determinants of health are a major pivot of population health in the U.S., CDC Associate Director for Minority Health and Health Equity, Leandris Liburd, told the sixth annual University of Pennsylvania Martin Luther King Jr. Health Equity Symposium about a family member with uncontrolled diabetes and former high school mates with chronic diseases.
Born in Richmond, Va., Liburd, PhD, MPH, MA, moved away to pursue studies at the Universities of Michigan, North Carolina at Chapel Hill, and Emory before going on to a professional career in Atlanta. She recently went back to her 40th high school reunion to gather with people she hadn't seen in decades.
"I was struck that I had classmates who had pacemakers, who were on oxygen and I was saying to myself, 'what's going on? We're not really that old.' But I can see in these kind of moments how the environment can make lives so different. It animates my personal understanding of social determinants as conditions in the environment where people are born, live, learn, work, play, worship, and age that affect a wide range of health, functioning, and quality of life outcomes and risks."
Liburd was the latest in a line of national health care experts, including U.S. Surgeons General and top officials from the CDC, HHS, and Veterans Affairs, to keynote the annual Penn symposium organized by Penn Medicine's Office of Inclusion and Diversity that celebrates the life and work of Dr. King. As in previous years, the event packed the Penn Medicine's Smilow Center for Translational Research's Arthur H. Rubenstein Auditorium and also drew a streaming simulcast audience online.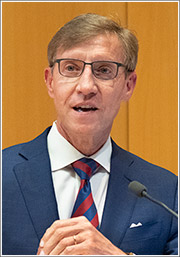 'Really important week'
In opening the symposium, J. Larry Jameson, MD, PhD, Executive Vice President of the University of Pennsylvania Health System and Dean of the Perelman School of Medicine, called on the audience to "pause and reflect on the fact that this is a really important week for all of us to take time out and focus on the topic of social justice and health equity."
In her welcoming comments, Eve Higginbotham, SM, MD, Penn Medicine Vice Dean for Inclusion and Diversity and LDI Senior Fellow, warned that the Affordable Care Act continues to be "under assault" even though it has increased the number of insured people by 18.6 million. "We should recognize how important this is and make it a major public health policy issue we are all concerned about," she said.
Higginbotham pointed out that one of the best remembered quotes of Dr. King is "Life's most persistent and urgent question is, what are you doing for others?"
"Each of us in our own work," Higginbotham told the audience, "whether it's delivering care or being community members helping people to navigate a complicated health system, or just being compassionate family members, should be asking ourselves 'How can we collectively contribute to improving the landscape of health care in this country?"
'Missing the music'
On a lighter note, Higginbotham spoke of her own memories of the Civil Rights movement and the role music played in its events. "When we've done the Martin Luther King celebrations here at Penn in previous years, I was missing the music and how it allowed us to come together as an inclusive group; to actually reduce barriers and enable our spirit to fill in the blanks and reflect on our own purpose," Higginbotham said. "So, the gift of music will be part of our celebration today." (see "Din & Tonics" below).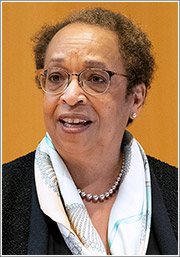 In her keynote address, CDC's Dr. Liburd went on to review some of what the CDC has been doing in its own national effort to address broad health inequities in the U.S., particularly as they relate to African American, Hispanic, and other minority communities.
"In my world, health disparities are the problem and health equity is the goal," said Liburd. "The CDC has been building the science and practice of health equity and calling out some clear opportunities to improve population health through a coordinated strategy between public health and medicine. The issues I raise today are not new, but they are growing into a critical mass of public health and health care professionals who have taken up the challenge of pursuing health equity all over the country. I want to congratulate the University of Pennsylvania for the work it is doing in this area."
A key part of her office's work is focused on a clear definition and focus on five areas of the social determinants of health: Neighborhood and built environment, education, economic stability, health and health care, and social and community context.
'A particular type of health difference'
"For us, health disparities are not just a difference in health outcomes between population groups," Liburd said. "They are a particular type of health difference that is closely linked with social, economic, and/or environmental disadvantage."
Another high priority issue in Liburd's office is the rising rate of diabetes. Between 1990 and 2010, the number of people with the disease tripled and the number of new cases reported each year doubled. More than 30 million people now have diabetes, and a quarter of them are undiagnosed and untreated. Rates of diabetes are significantly higher throughout minority populations.
"Diabetes is the seventh leading cause of death and the number one cause of kidney failure, lower limb amputations and adult onset blindness," said Liburd. "And as the population rates of overweight and obesity have increased, the diabetes problem has gotten worse. Amongst females, we see the highest prevalence of obesity among Black and Hispanic women 18 to 24 years old. The question we're grappling with is why? Why do we see this distribution?"
CDC 'Vital Signs' reports
A major effort of CDC focused on health equity uses the agency's vast stores of statistical data to produce translational publications that tell the story of health disparities in a way that is easier to understand. Liburd pointed to two recent CDC "Vital Signs" reports that garnered widespread media attention and helped to better define the health disparities picture of Hispanics and African Americans.
"The Hispanic report was significant because it was the first time the CDC actually disaggregated Hispanic data by subgroups, and further disaggregated by whether people were foreign born or U.S. born," she said. "The differences in that were striking. That particular CDC Vital Signs report holds the record for having been viewed by close to two billion people around the world.
"In 2017, we collaborated with the National Center for Chronic Disease Prevention and Health Promotion do to an African American Vital Signs report, and there were two significant things that made the report of interest. One is that the life expectancy for African Americans over age 65 increased by 25 percent. But the second was that we saw among the younger age groups of African Americans an earlier onset of chronic diseases."
Maternal mortality
"This year, something that's very, very important in our office is maternal morbidity and mortality," said Liburd. "When we look at pregnancy-related mortality, we see that Black, non-Hispanic women, American Indian, and Alaskan native women have a higher prevalence. And when we look at pregnancy-related mortality by educational attainment — and this is also shocking — for black women with at least a college degree, the mortality rate was five times as high as that of white women with similar education. This is so concerning to me because education and income are seen as longstanding protective factors in public health. So, for some reason, that's not playing out here."
"Our office of women's health has been researching this issue and their conclusions are that maternal mortality is a barometer of our society's health, just like infant mortality," Liburd continued. "So, this is another key health equity issue we all need to be paying close attention to."