COVID-19
Blog Post
Clinical Research in the Age of COVID-19
A new normal
During the COVID-19 pandemic, the vast majority of clinical research visits have stopped, with the recognition that any in-person contact adds risk that, for the time being, outweighs any research without direct benefit. Researchers have adopted this new normal, often under the premise that this too shall pass. Soon enough, when going to the grocery store becomes a mundane errand instead of a momentous event preceded by days of planning, our work lives – including research – will resume as well. But is that true?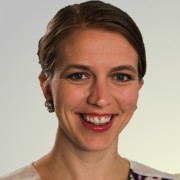 Discussions have begun about what reopening society will look like. It is unlikely to be sudden and comprehensive, but rather with stops and starts – partial openings, restricted hours and attendance, knowing that doors may need to be shuttered again if another infectious surge is spotted ahead. Researchers need to prepare for this too. In the short term, we are clarifying expectations with funders and closing out the academic year via distance learning for mentees. But we must also prepare for potentially longer-term changes to the way we conduct research going forward.
The breadth of research conducted at any major university is only surpassed by the breadth of potential challenges to research agendas imposed by the COVID-19 pandemic. From data that cannot be acquired until the pandemic subsides, to subtle but undeniable impacts on ongoing questionnaire results, it is difficult to envision research-in-progress that is not affected by the physical, emotional, and societal impacts of COVID.
While each research project has its own specific collection of obstacles, there are at least three broadly relevant areas of discussion regarding how to resume research that is currently paused.
1: Transition to virtual assessments
When the acute instability subsides, a potential path toward restarting some research agendas includes transitioning in-person assessments to virtual ones when appropriate. This may require novel validation techniques and accommodations to maintain similar levels of participation. Researchers should continue, and expand, efforts to engage diverse and marginalized populations after the upheaval of the pandemic.
Many in-person accommodations in field studies can be continued virtually. For example, virtual interviewers can read survey cues to participants to overcome literacy barriers, or conduct interviews in other languages to increase diversity in a study population. If studies included community-participatory research to engage underserved populations, these conversations should be continued.
Structural challenges to virtual enrollment abound – inadequate access to internet, instability of contact numbers, insufficient controls of home environment for adequate participant privacy or attention. Yet, researchers can learn a great deal from the rapid innovations and modifications modeled within health care delivery.
Seemingly overnight, health care was reoriented around its mission to "first, do no harm." Visits to the doctor's office were curtailed by strict priority metrics. Providers embraced flexibility and shared best practices. While we don't yet have data on the health outcomes associated with these rapid changes – and it will likely be a mixed-bag– the lessons of implementing an entirely new health care delivery system within weeks will yield frameworks that researchers across disciplines can build upon.
2: Informed consent and IRBs
Previously, many studies that involved in-person contact for completion of surveys, educational testing, or other standard behavioral assessments were ruled exempt from institutional review board (IRB) oversight, as the overall risk was minimal even if participants received no direct benefit.
Post-COVID, IRBs should provide guidance to researchers on what to expect if they want to continue in-person assessments. What additional protections are needed for participants during in-person assessments? Additional procedures may be appropriate, such as pre-visit health screening, social distancing modifications within the structure of research visits, and availability of personal protective equipment, consistent with institutional policies.
We also may need to revise informed consent language to address present concerns about social interactions. The public is scared and hesitant to approach medical campuses. Gatherings of non-household members are discouraged or prohibited. These realities should be addressed within informed consent until they are no longer relevant for society at large.
With this guidance, researchers can develop pragmatic plans for resumption of paused studies, as well as make plans for future IRB approval.
3. Data analysis
As researchers, it is unlikely that we will all pick up just where we left off. In fact, it is hard to imagine a study that is not impacted by the complicated forces of COVID-19 pandemic. Thus, we must critically evaluate whether and how to continue our studies.
Depending on the research aim, methodology, and proximity to completion, some studies may be best served to end early – even if it means suboptimal power or partial completion of planned assessments. For these studies – for example, studies reliant upon multiple in-person visits without direct benefit to participants – moving ahead with final analyses may be the best use of data and time, allowing respective fields to move forward expeditiously.
For data collection that will be resumed, researchers should plan analyses to account for the COVID-19 shift. Perhaps sensitivity analyses will suggest that the pandemic pause is not significant, but this should not be overlooked. Data may forever be categorized into before and after subsets.
Finally, researchers who were in the early stages of data collection may be best served to take this time to restructure their studies. Pre-COVID-19 data can be redefined as preliminary data that supports and directs a research approach going forward that reflects the realities of the COVID-19 era.
Things will continue to change. Someday we may even feel "normal" again – but that normal will likely look and be different from our old normal.