Health Care Access & Coverage
News
Expanding Health Insurance Coverage: Penn LDI's New Research Partnership
Launch of Research Collaboration with United States of Care

Penn LDI is pleased to announce its new research partnership with United States of Care, a new non-partisan, non-profit organization dedicated to ensuring access to quality, affordable health care for everyone in the United States. This important partnership is part of Penn LDI's work on insurance reform, with a focus on improving access to and affordability of health care, especially for low-income populations.
As a research partner to United States of Care, Penn LDI will produce, distill, and disseminate research evidence on what is known, and still unknown, about policy proposals to expand health coverage to all. Penn LDI will bring its expertise to bear on important health care questions of affordability, value, quality, and markets.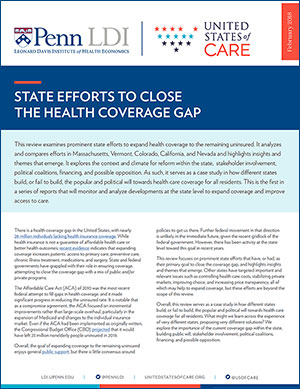 New report
Today, Penn LDI and United States of Care are releasing a review of prominent state efforts to close the coverage gap, the first of many timely, publicly available resources that will be produced, and updated, by this partnership.
This new report looks at the most ambitious proposals in Massachusetts, Vermont, Colorado, California, and Nevada, and determines common challenges and themes that emerge. It serves as a case study in how different states build, or fail to build, the popular and political will towards health care coverage for all residents.
Importance of the partnership
"We are building stronger ties between research and policy through our partnership with United States of Care," said Dan Polsky, PhD, executive director of Penn LDI. "This reflects and supports our core mission to promote multidisciplinary, non-partisan, policy-relevant research, and to have that research inform policy debates."
For United States of Care, the partnership supports the larger goal of working with a diverse set of stakeholders to change the conversation around health care. "We are committed to gathering and supporting the best ideas for change, rather than being defined by any one policy proposal," said United States of Care Board Chair Andy Slavitt, the former Acting Administrator of the Centers for Medicare and Medicaid Services. "Penn LDI will help us provide critical information to policymakers and other stakeholders, and help us identify new ways forward."
Ensuring that everyone has health insurance coverage is a popular idea, but there is little consensus on efficient, effective, and politically feasible policies to achieve this goal. As the country continues to debate both the goal itself, how to finance it, and the pathways to achieve it from across the political spectrum, Penn LDI and United States of Care will bring evidence on current and potential policy proposals into the discussion.
Penn LDI is one of the first university programs to successfully cultivate collaborative scholarship among typically disparate disciplines. It is a cooperative venture among Penn's health professions, business, and communications schools (Medicine, Wharton, Nursing, Dental Medicine, Law School, and Annenberg School for Communication) and the Children's Hospital of Philadelphia, with linkages to other Penn schools, including Arts & Sciences, Education, Social Policy and Practice, and Veterinary Medicine. As Penn's hub for health services research, health policy, and health economics, Penn LDI catalyzes and facilitates research collaborations and educational programs to expand knowledge and shape policy for a more effective health system. Its key themes include insurance reform, health care delivery, healthy behaviors, and vulnerable populations.
---