News
Health Policy and the New President
An LDI Panel Discussion Looks Beyond Stunning Election Results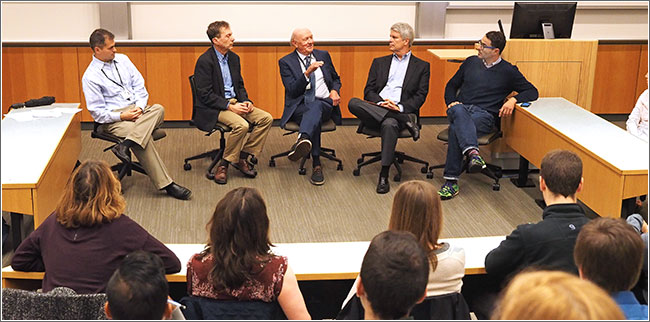 Less than 24 hours after the result of the Presidential election became clear, the Leonard Davis Institute organized a panel of top health care policy experts to discuss potential changes to the Affordable Care Act by the incoming GOP administration that will now control the White House, House and Senate.
Backgrounding the "Post-Election – What's Next for Health Care Reform" discussion moderated by American Public Media Senior Health Care Reporter Dan Gorenstein was the years-long promise by the GOP as well as its new President-elect to "repeal and replace" the Affordable Care Act.
Much of the panel session went over various points of the long-running and starkly binary debate that has so divided Republicans and Democrats over the health care reform law.
But toward the panel session's end, Gorenstein motioned to the packed audience in the Wharton School's Huntsman Hall, noting that a substantial portion was made up of health care management students who may be asking themselves if they should really be investing themselves in a field that seems so enveloped in discord and upheaval. He asked the five panelists if they could offer the students "something to inspire them or give them cause to understand why they should continue to want to be in this space?"
Panelist and University of Pennsylvania Health System CEO Ralph Muller pointed to dramatic improvements in health care over the last 15 years, the opportunity to continue that improvement, and his view that health care itself was much larger than the current political debate.
"Sixty-three percent of employers now provide health care coverage and there's a lot of innovation going on in that sector," he said. "Another big chunk of health care is Medicare where you also find ongoing improvements happening."
"There have been serious efforts against Obamacare," Muller continued, "but I think a lot of that had to do with the general reaction to the President. I do think there will be an effort to repeal but it's difficult for me to see exactly how that will happen. There are 11 million people getting coverage on the exchanges."
Wharton Health Care Management Professor Scott Harrington said "I remain very bullish on the long run in terms of the development of new technologies and health care improvement and I don't see anything about this election that would cause me to reduce my optimism about things going forward."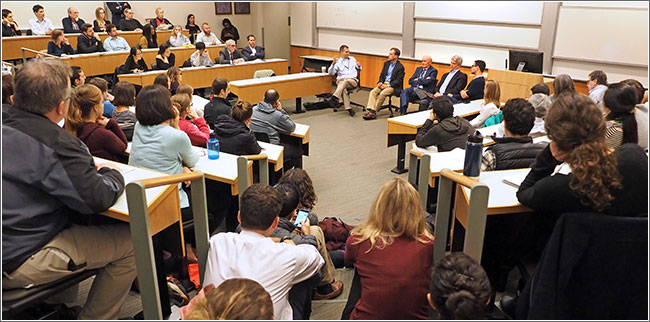 "Ultimately," he said, "you have to have the money to make these things happen but overall, as a society, we have a great appetite for health care and we are going to continue to spend on health care because it's a wonderful thing to be part of improving peoples' lives and longevity and reducing their pain. So, going into this sector is a great play and is something that allows you to be very happy about the value of what you're doing."
Drexel Law School Professor and Penn Health Care Management Lecturer Robert Field said "My prediction is that there is going to be tweaking done to the ACA but they're not going to call it that. It's going to happen behind the scenes and they're going to say 'we repealed and replaced.'"
"Keep in mind," Field continued, "health care is 18% of the GDP now and it will be 20% within a few years. We are almost becoming a health care economy and health care now accounts for 10% of all our non-farm jobs. In terms of meeting demand, there will always be pressures for it to increase and that demand will always be larger than we can meet. It's not going to shrink."
Penn Medicine Assistant Professor of Medicine and LDI Director of Policy David Grande pointed out that "one of the great frustrations around what has transpired politically around health care in the last eight years is the extraordinary level of rhetoric and toxicity of the debate. We have to look beyond that as we view the future."
"When you have a new administration coming in they are responsible for the issues rather than the rhetoric. They have to get specific. Health care is hard and health policy is hard but I think the new administration will find that they need to be sensitive to the many health care demands and needs of the American population."