COVID-19 | Health Equity
News
Lack of Broadband, Rise of Anti-Vaxxer Rhetoric Threaten Black Community During Pandemic
Penn LDI Researcher Carmen Guerra Testifies Before Pa. Senate Committee
Unless actions are taken to expand broadband access to all areas, the much-touted spread of telemedicine triggered by the COVID-19 pandemic is likely to increase health disparities in the black community, University of Pennsylvania researcher Carmen Guerra told a Pennsylvania Senate committee.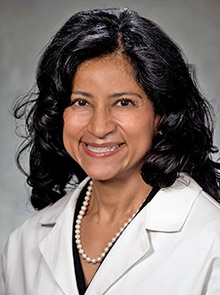 Testifying before the State Democratic Policy Committee on COVID-19 that was virtually convened on June 4 to gather information on disparities in testing and care for African Americans, Guerra, MD, MSCE, also cited the influence of anti-vaxxer rhetoric being spread in African American communities. She volunteered to help policymakers understand and address these trends in more detail.
Telemedicine and vaccine policy
"You've already helped," Committee Chair Senator Lisa Boscola told Guerra as she ended her testimony. "I'm writing down some notes about telemedicine issues that I never even thought of, and about the vaccine policy. You are already helping, believe me."
Guerra, an LDI Senior Fellow, Associate Professor of Medicine, and Vice Chair of Diversity and Inclusion in Penn's Department of Medicine, warned "as health systems focus on digital expansion, broadband access is becoming a social determinant of health and will dictate patient care experience."
Barrier to education and health
In separate written remarks submitted to the committee, Guerra cited the Philadelphia School District's report that Comcast refused to open its broadband networks to provide low-income students access to school materials during the pandemic lockdown at home. She said the same barrier to high-speed internet service has serious, long-term health implications for African Americans and other minorities.
We have staff and experiences in the community that already tell us there's misinformation circulating that makes many of our black residents fearful of a COVID vaccine.

Carmen Guerra
"I point to the future and tell you I am very nervous and fearful that the current disparities will only deepen," she told the senators. "As I've watched health systems across this country embrace the role of telemedicine, the digital divide in our country is becoming clearer and clearer."
Fear of COVID vaccine
The Penn Medicine researcher, who has long studied health inequities and evaluated programs and strategies to eliminate them, also said there is rising concern about equitable access to a COVID-19 vaccine once it is developed, and that anti-vaxxer rhetoric may already be sowing fear in black neighborhoods about such protective drugs.
"We have staff and experiences in the community that already tell us there's misinformation circulating that makes many of our black residents fearful of a COVID vaccine; makes them mistrustful of a vaccine," Guerra said. "I think we need to prepare for that with really accurate information and ways of disseminating information through people that we trust. Then, once a vaccine does become available, we should establish policies that provide for free vaccines."
In her opening remarks, Senator Boscola noted that in New York, where the pandemic has been particularly devastating, African Americans were twice as likely to die of the disease than whites. She said that Pennsylvania doesn't have comprehensive statistics on COVID-related racial disparities across the state because "our State Department only started collecting race-based data in May."
Disparities by ZIP code
Guerra pointed out that in Philadelphia the disparities in COVID-19 testing can be studied by ZIP code and "it is not equitable," she said. "In ZIP code 19102, where the median income is $90,000, the testing there is about 16 per hundred thousand. Yet in North Philadelphia — ZIP code 19120 — where the median income is $37,000, the testing rate was only 2.7 per hundred thousand."
"This unequal testing access," Guerra continued, "can set us up again if there are future waves of COVID-19 deepening the disparities we're now seeing. So, one of the things (the legislature needs to think about) is how do we close the gap on these geographical inequities that exist in neighborhoods mostly occupied by black communities?"
She proposed coordinating efforts to increase testing with trusted community leaders and institutions, like black churches. "I also propose that we actually have many resources already in our health systems, and that more mobile testing units are a potential solution," she said.
Greater use of mobile testing
"Many health systems have this capacity already for other things," Guerra continued. "I have an emergency department colleague who does mobile CPR training and is ready and willing to redeploy his resources to increase access to COVID testing."
"Addressing the needs of the especially hard-hit black communities during the COVID-19 pandemic is critical to assuring the health and wellbeing of members of those communities," Guerra said in a final statement. "In addition, because of the coronavirus' high transmissibility rate, investment in these communities is critical for assuring the health of all communities."