News
LDI Fellows McHugh, Merchant and Carr Named to National Academy of Medicine
Cited for Contributions in Science, Medicine, and Health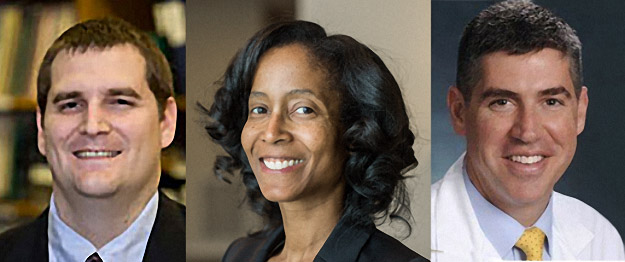 LDI Senior Fellows Matthew McHugh and Raina Merchant, and LDI Adjunct Senior Fellow Brendan Carr, were named new members of the National Academy of Medicine at NAM's Oct. 19 annual meeting.
McHugh is a Professor at Penn's School of Nursing; Merchant, is an Associate Professor at Penn's Perelman School of Medicine; and Carr is a Professor of Emergency Medicine at the Icahn School of Medicine at Mount Sinai.
The three were among 100 new members named to what is one of the highest honors in the field of health and medicine.
'Truly exceptional'
"This distinguished and diverse class of new members is a truly exceptional group of scholars and leaders whose expertise in science, medicine, health, and policy will be integral to helping the NAM address today's most pressing health challenges and inform the future of health and health care for the benefit of everyone around the globe," said National Academy of Medicine President Victor J. Dzau.
McHugh, Merchant and Carr join twenty-eight other LDI Fellows who are members of the prestigious National Academy.
McHugh, PhD, JD, MPH, RN, FAAN, is the Independence Chair for Nursing Education, Professor of Nursing, Associate Director of the Center for Health Outcomes and Policy Research, and Faculty Director of the Nursing and Health Care Management Coordinated Dual Degree Program at the University of Pennsylvania School of Nursing. He is also a 2011 RWJF Nurse Faculty Scholar and an LDI Senior Fellow. A family nurse practitioner and psychiatric-mental health clinical nurse specialist, his work evaluates how nursing can be a force for quality, equity, and innovation in health services. He received his ASN and BSN in nursing from Gwynedd-Mercy College, his MSN and PhD in nursing from the University of Pennsylvania, an MPH from the Harvard School of Public Health, and JD from the Northeastern University School of Law.
Merchant, MD, MSHP, is an Associate Vice President at Penn Medicine, Director of the Penn Medicine Center for Digital Health, and Co-Director of the Penn National Clinician Scholars Program. She received her undergraduate degree at Yale, her MD at the University of Chicago for Medical School, and a Masters of Science in Health Policy Research at Penn. She was also a Robert Wood Johnson Foundation Clinical Scholar at Penn. An Aspen Health Innovators Fellow, she was recognized by the Robert Wood Johnson Foundation as one of 10 young investigators likely to have a significant impact on the future of health and healthcare in the US. Her research is at the intersection of digital media and health. Much of her work also bridges new technologies in the field of cardiovascular health and resuscitation science.
Carr, MD, MA, MS, is Professor and System Chair of Emergency Medicine at the Icahn School of Medicine at Mount Sinai in New York. He has had a central role in coordinating that Health System's response to the COVID-19 epidemic in that city. He was a Robert Wood Johnson Clinical Scholar at the University of Pennsylvania where he received his masters degree in Health Policy Research. His work has focused on building regional systems of care for emergency care and developing innovative delivery system solutions to create a more distributed and accessible acute care delivery system. His health services research focuses on systems of care for trauma, stroke, cardiac arrest, and sepsis. From 2012 to 2020, he served as Director of the Emergency Care Coordination Center and Senior Advisor within the U.S. Department of Health and Human Services.