News
Nursing School's José Bauermeister Named to Aspen Institute Fellowship
Will Join 20 Other Top Leaders in Devising and Launching Entrepreneurial Ventures to Improve Health Care
Presidential Professor of Nursing at Penn Nursing and LDI Senior Fellow José Bauermeister is one of 21 health care leaders selected for a two-year Health Innovators Fellowship at the Aspen Institute.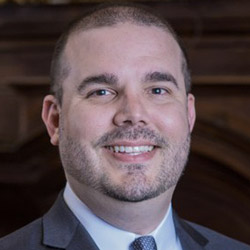 Headquartered in Washington, D.C., the Aspen Institute is a 70-year-old nonprofit think tank devoted to the nonpartisan development of values-based leadership and the convening of leading minds in a variety of fields. Its Health Innovators program is designed to inspire and challenge entrepreneurial-minded health care leaders in the development of new ideas for how to improve the health and wellbeing of the U.S. population.
HIV-related research
Bauermeister, PhD, MPH, is a Professor of both Nursing in the Nursing School and Psychiatry in the Perelman School of Medicine, and Director of the Penn Program on Sexuality, Technology & Action Research (PSTAR). His interdisciplinary research examines how mobile and biomedical technologies can be used to improve the health of racial/ethnic and sexual minority adolescents and young adults. He is the principal investigator of several intervention projects focued on HIV prevention and care continuum by addressing HIV-related health-seeking behaviors, sexual behaviors, alcohol and other drug use, and psychological well-being.
Bauermeister is the second Penn faculty member and LDI Senior Fellow to be named an Aspen Health Innovation Fellow since that program was established in 2015. Penn Medicine Associate Vice President and Director of the Center for Digital Health Raina Merchant, MD, was named to the 2018 cohort of Fellows.
Entrepreneurial leaders
The new class of 21 Aspen Institute Health Care Innovation Fellows includes CEOs, CMOs and other top entrepreneurial leaders from health care-related business, venture capital, government and military institutions across the country.
The new Fellows will spend four weeks over the course of two years exploring their leadership, core values, desired legacies, and vision for the health care system. All Fellows commit to launching a leadership venture that will stretch and challenge them and have a positive and lasting impact on health care in the U.S. The Health Innovators Fellows also join more than 3,000 other entrepreneurial leaders from over 60 countries to become members of the Aspen Global Leadership Network (AGLN).