News
Patricia Danzon Receives 2020 ASHEcon Lifetime Achievement Award
Cited for 'Significant Lifetime Contributions' in Health Economics
LDI Senior Fellow and Wharton School Professor Patricia Danzon has received the American Society of Health Economists' 2020 Victor R. Fuchs Lifetime Achievement Award. The award honors economists who have made significant lifetime contributions to the field of health economics.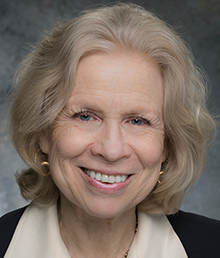 Established in 2008, the award is named for Stanford University Professor Emeritus Victor Fuchs, one of the earliest pioneers of health economics research.
Danzon, PhD, is the Celia Moh Professor Emeritus of Health Care Management at The Wharton School and is an internationally recognized expert in the fields of health care economics, the biopharmaceutical industry, and insurance.
She has published widely in scholarly journals on a broad range of subjects related to health care, pharmaceuticals, biotechnology, insurance, and the economics of law. She co-edited the Handbook on the Economics of the Biopharmaceutical Industry for Oxford University Press.
The journals at which she has been an Associate Editor are the American Economic Review, the Journal of Health Economics, and the International Journal of Health Care Finance and Economics.
A member of the Academy of Medicine and the National Academy of Social Insurance, and a Research Associate at the National Bureau of Economic Research, Danzon has also served on the Policy and Global Affairs Board of the National Academy of Sciences, and the Policy Board of the Office of Health Economics in London.