Health Equity
News
Penn Dental's Joan Gluch Receives Public Service Award
LDI Senior Fellow Cited by PA Dental Association for Innovation in Community Oral Health
Chief of Penn Dental Medicine's Division of Community Oral Health and LDI Senior Fellow Joan Gluch, PhD, RDH, PHDHP, has received the Pennsylvania Dental Association's Public Service Award for her commitment to the oral health of underserved individuals.
A Professor of Preventive and Restorative Sciences, Gluch heads a team of 21 Penn faculty members and staffers in the development and implementation of community-based clinical outreach and education programs.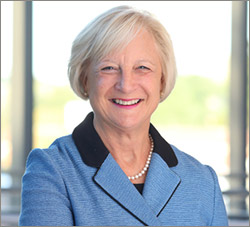 Underserved Communities
The PDA award announcement cites Gluch "for her insightful innovations to improve the oral health of children and adults in underserved communities."
A statement from Penn Dental noted that Gluch "expanded community outreach programs and partnerships and established the academically based service-learning courses at Penn Dental Medicine, through which the School serves approximately 20,000 individuals annually."
Children's Program
Some of the funding Gluch has raised supports a grant that allows all predoctoral students to have clinical experience with children in their first five years of life. Penn Dental Medicine was one of 11 dental schools nationwide to receive the "first five" Health Resources and Services Administration (HRSA) grant.
Gluch has also led the development of an honors program that enables motivated students to go beyond the basic service requirements to receive intensive experience in developing community oral health programs.