Health Equity
News
Penn LDI's Nwamaka Eneanya Named a 40 Under 40 Leader in Minority Health
National Minority Quality Forum Award Honors Health Care Disparities Mitigation Research Work
University of Pennsylvania Perelman School of Medicine Assistant Professor and LDI Senior Fellow Nwamaka Eneanya, MD, MPH, FASN, has been named one of the National Minority Quality Forum's 2020 40 Under 40 Leaders in Minority Health.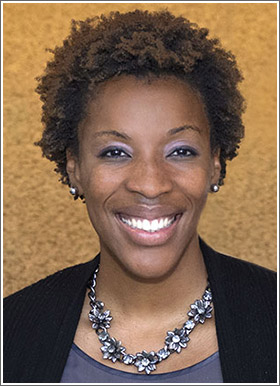 The award ceremony is part of NMQF's annual Leadership Summit on Health Disparities to be held April 18 at the Watergate Hotel in Washington, D.C.
'Critical difference'
"These new leaders are on the front lines working to improve public health outcomes across our nation, and make a critical difference in communities of color that disproportionally feel the sting of health inequity," said Congressional Black Caucus Health Braintrust Chair Congresswoman Robin Kelly, PhD, (D-IL).
Founded in 1998, the National Minority Quality Forum is a research and educational organization focused on evidence-based, data-driven initiatives to improve the quality of health care for vulnerable racial and ethnic populations.
RCMAR Scientist at LDI
Eneanya, a Penn nephrologist, is also a Resource Center for Minority Aging Research (RCMAR) Scientist in LDI's Center for Improving Care Delivery for the Aging (CICADA). The program is a multidisciplinary research initiative aimed at improving the diversity of the health services research (HSR) workforce studying aging and health care issues.
"Dr. Eneanya is an extremely talented and dedicated researcher and physician. We are lucky to have her at Penn and as part of CICADA," said LDI Executive Director Rachel Werner, MD, PhD.
Eneanya is studying the racial differences in advance care planning among nursing home patients with moderate and advanced chronic kidney disease.
She holds an undergraduate degree from Cornell University, a medical degree from Meharry Medical College, master's degree in public health from the Harvard T.H. Chan School of Public Health, and completed her nephrology training at Massachusetts General/Brigham and Women's Hospitals.