News
Summer Reading: Latest Books From Penn LDI Senior Fellows

For your summer reading pleasure, here are some of the latest books from LDI Senior Fellows.

Katherine Milkman, PhD, Wharton
How to Change: The Science of Getting from Where You Are to Where You Want to Be
Penguin Portfolio, May, 2021
Drawing on Milkman's original research and the work of her dozens of scientific collaborators, this book shares an innovative new approach that will help individuals change or encourage change in others.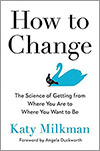 Lawton Burns, PhD, MBA, Wharton
Big Med: Megaproviders and the High Cost of Health Care in America
University of Chicago Press, 2021
Drawing on decades of combined expertise in health care consolidation, this just-released new work traces Big Med's emergence in the 1990s, followed by its swift rise amid false promises of scale economies and organizational collaboration.