Health Care Access & Coverage | Population Health
News
The Unique Pandemic Challenges Faced by Immunocompromised Individuals
LDI-Funded Rapid-Response Study Uses Photography to Elicit Patient Responses
A photo-elicitation study funded by a Leonard Davis Institute of Health Economics COVID-19 Rapid-Response grant has found that immunocompromised patients face unique challenges as a result of both their heightened risk of infection and adherence to government pandemic guidelines.
The project was one of thirteen Rapid Response grants awarded to LDI Senior and Associate Fellows in early May.
Distress experiences
"In this study we ask individuals who had compromised immune systems to reflect on structural changes and emotional experiences during COVID-19 by taking photographs and sharing their stories," said Laura Sinko, PhD, RN, CCTS-I, LDI Associate Fellow, and National Clinician Scholar at the Perelman School of Medicine. "The purpose of this was to learn more about their wellness and distress experiences while also learning how we can best support them going forward."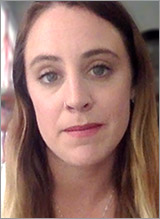 Forty seven patients participated in the study which is described in a manuscript being submitted to the Journal of Community Psychology. Photos taken by the participants are on display in a virtual exhibit.
"Overall, participants revealed significant distress coming from complicated feelings, prolonged isolation, safety fears, and stress surrounding job loss or disease management. These challenges often caused mental health difficulties leading many to prioritize wellbeing in their lives," explained Sinko, who co-directed the project with Samira Rajabi, PhD, of the University of Colorado at Boulder, mentored by LDI Senior Fellow Raina Merchant, MD, MS.
Isolation effects
Sinko noted that for many of the participants, intentionally engaging in wellness strategies was a new experience. She said they came to realize it was necessary in order to get through isolation for prolonged periods of time.
"They were aware than many unhealthy habits could form while quarantining during COVID-19," she said. "Ultimately, participants strove to build emotional resilience. This was done by practicing gratitude, finding hope, acknowledging small victories, coping with humor, and reflecting on what was most important to them."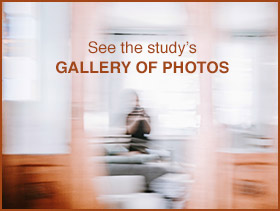 The study participants also sought to find pockets of escape by setting technology boundaries, spending alone time with themselves, and spending time outdoors.
Negative changes
"It's important to note that while most of our participants experienced negative changes to their wellbeing as a result of the pandemic, for some, particularly those who were severely immunocompromised from the start, not much had changed," Sinko said.
One of the photos in the exhibit shows a wheelchair with a sign on it that says "I wore masks long before COVID-19."
"Hearing the voices of those at high risk for COVID-19 disease transmission, has important implications as we move forward in these uncertain times," said Sinko. "We must prioritize the wellbeing of those at high risk, and be aware of how our adherence to guidelines really can impact their mental health and safety.
"We must consult those at highest risk of infection," Sinko continued, "and begin to think of creative solutions to improve their well-being long term, while also thinking about beginning to reopen our country."