Population Health
Blog Post
The 'Warming Effect' of DACA on American Children
Study shows improved access to critical social services
New research shows that young citizen children were more likely to receive important social services when their undocumented mothers became eligible for the Deferred Action for Childhood Arrivals (DACA) program. Providing evidence of the multi-generational spillover effects of immigration policy, this new analysis comes as the U.S. House of Representatives is on the brink of forcing a vote on a permanent solution for recipients of the DACA Program.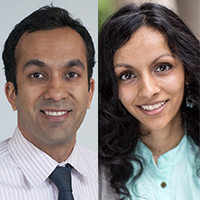 In JAMA Pediatrics, a study team book-ended by the sister and brother team of Maya and Atheendar Venkataramani found that a mother's DACA eligibility was associated with a 12.3 percent higher likelihood that her child participated in the Special Supplemental Nutrition Program for Women, Infants, and Children (WIC). The program is considered one of the most successful and cost-effective nutrition interventions for low income, at-risk children.
DACA, introduced in 2012, granted work permits and a stay on deportation for many undocumented immigrants who came to the U.S. as children. The authors were interested in the potential positive effect of the program on the children of undocumented immigrants, and whether it improved the uptake of public benefits.
Nearly six million children who are U.S. citizens live with a parent or family member who is undocumented. Research on mixed-status families has shown that undocumented parents are less likely to apply for social services on behalf of their children for fear of their immigration status being uncovered. This phenomenon is likely only getting worse with the Trump Administration's crackdown on unauthorized immigration.
"Our findings demonstrate that favorable immigration policies can have a 'warming effect' on vulnerable children's access of critical social services. The results suggest that rolling back DACA or instituting policies which raise the threat of deportation could result in a 'chilling effect' that could adversely affect child health" says study author Atheendar Venkataramani.
The authors used data from the 2010-2015 National Health Interview Survey to look at children who were five years of age or younger (WIC age eligibility), and whose mothers were Hispanic, not U.S. citizens, and had lived in the U.S. for at least five years.
Because DACA status was not available in the data, the authors used DACA eligibility criteria as a proxy – whether the mother was 16 or under when she immigrated, and 31 or under at the time of DACA implementation in 2012. They then compared changes in WIC enrollment among children whose mothers met these two age eligibility criteria before and after the introduction of DACA, as compared to changes among children whose mothers did not meet these criteria.
As a test of their methods, the authors also looked at children with noncitizen mothers who likely would not have been eligible for DACA due to an education requirement, and they did not find the same association.