Health Care Access & Coverage
News
Twelve Penn Researchers Selected for 2020 LDI Pilot Research Grants
Early Stage HSR Projects Target Challenges in Health and Health Care Delivery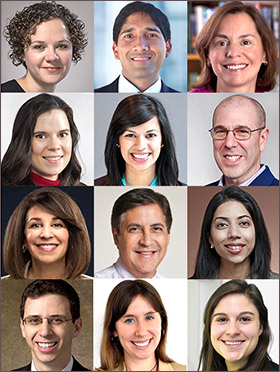 The University of Pennsylvania's Leonard Davis Institute of Health Economics (LDI) has announced the award of twelve 2020 small grants to teams led by twelve LDI Senior and Associate Fellows engaged in work across a wide range of health services research (HSR) areas. 
Early stage investigations
Throughout most of its 52-year history as Penn's hub of health services and policy research, LDI has annually provided small grant funding for early stage investigations that would otherwise not qualify for larger NIH or other institutional grants. Often, the findings of such pilot studies are the stepping stones that enable researchers to advance their careers with larger grants.
The 2020 grantees are involved in projects ranging from the analysis of suicide prevention programs in juvenile detention facilities and the association of housing affordability to health outcomes, to disparities in neonatal abstinence syndrome outcomes, and the use of community health care workers to improve outcomes among high-risk pediatric patients newly-diagnosed with type 1 diabetes. Below are the recipients and their projects:
Predicting Prescription Drug Adherence and Treatment Gaps for Medicare Beneficiaries with Chronic Conditions: A Comparison between Traditional Models and Machine Learning Algorithms Doshi

Principal Investigator: Jalpa Doshi, PhD
Co-Investigators: Pengxiang Li, PhD; Junpu Wang, PhD
Medicare patients have tended to be poorly adherent with innovative pharmaceuticals offering new therapeutic possibilities for serious, chronic or life-threatening diseases. This first-of-its-kind study will use 100% Medicare Chronic Conditions Warehouse data to compare the predictive accuracy for medication non-adherence with select chronic conditions using traditional logistic regressions and machine-learning algorithms.
---
Metrics, Morbidity, and Mortality Among the Elderly

Principal Investigator: Ari Friedman, MD, PhD
As health care shifts toward value-based payment, health systems and policy makers are starting to consider housing affordability as an important social determinant of health. However, its actual association with health outcomes is unknown. This study examines housing affordability trends among older adults from 2006-2016, comparing trends among key subgroups. It also measures the association between housing affordability and hospital and nursing home utilization.
---
Literacy Promotion Using Automated Hovering to Improve Development in Young Low-Income Children

Principal Investigator: James Guevara, MD, MPH
Co-Investigators: Brian Jenssen, MD, MSHP; Manuel Jimenez, MD, MS; Alison Buttenheim, PhD, MBA
Low-income vulnerable children experience disparities in the development of language and socio-emotional skills foundational for school readiness. This study assesses the feasibility and acceptability of three novel automated hovering (AH) interventions. It can provide critical preliminary data for a future R01 research project application to test the effects of AH approaches to increase parent-child shared reading in a larger and more diverse population of low-income children.
---
How Do Health Care Providers Deploy Public Funds?

Principal Investigator: Atul Gupta, PhD, MBA
The potential detrimental impact of a "Medicare for All" system on health care provider finances is an important policy debate concern. This study focuses on a related setting — the recent public insurance expansions authorized by the Affordable Care Act (ACA) that led to a decline in uncompensated care burden for providers. The goal of this study is to quantify the deployment of the incremental funds towards various aspects of care production and other relevant activities.
---
Disparities in Neonatal Abstinence Syndrome Infant Outcomes and Related Nursing System Factors

Principal Investigator: Eileen Lake, PhD, RN
Co-Investigator: Scott Lorch, MD, MSCE
Due to complex care needs, infants with neonatal abstinence syndrome (NAS) and prenatal opioid exposure (OE) may be especially sensitive to variation in hospital nursing resources. This study will reveal outcome disparities among NAS/OE infants and the association of disparities with variation in nursing resources. Evidence from this pilot will strengthen the planned NIH application, allowing this disparities-specific aim to be determinative, not exploratory.
---
Impact of Community Health Workers in High Risk Pediatric Patients with Newly Diagnosed Type 1 Diabetes

Principal Investigator: Terri Lipman, PhD, CRNP, FAAN
Co-Investigators: Colin Hawkes, MD, PhD; Charlene Lai, MD
This study assesses the use of Community Health Workers (CHW) to address adverse social determinants of health (SDOH) on the outcomes of lower socioeconomic status children newly diagnosed with type 1 diabetes. These patients have poorer glycemic control, lower quality of life, and increased healthcare utilization. The goal is to determine if addressing adverse SDOH reduces barriers to optimal diabetes outcomes in this patient population.
---
Advancing Behavior Change Among Older Adults: When and Why Financial Incentives Succeed or Fail

Principal Investigator: David Mandell, ScD
Co-Investigators: Harsha Thirumurthy, PhD; Jessica Fishman, PhD
Behavior change interventions commonly use incentives, which can be either financial or social. These two types of incentives are fundamentally different and may not be interchangeable, but we currently lack a strong rationale for choosing one or the other. This pilot study begins a new line of research investigating when financial incentives are most likely to succeed and identify the circumstances under which social incentives are most effective.
---
The Get to Sleep Study: Assessing the Feasibility of Using Mobile Methods to Assess Neighborhood Context and Sleep among Urban Adolescents

Principal Investigator: Stephanie Mayne, PhD, MHS
Co-Investigators: Alexander Fiks, MD, MSCE; Karen Glanz, PhD, MPH; Eugenia C. South, MD, MSHP; Vicky Tam, MA
Adolescents from low income communities are a vulnerable population for insufficient sleep which increases disease risk. Prior studies focused on where adolescents live, rather than where they spend their time. GPS-enabled smartphones offer an innovative opportunity to overcome the limitations of past studies by developing dynamic neighborhood exposure measures that account for all places where adolescents encounter crime, disorder, and green space.
---
Understanding Physician Variation in High Risk Medication Prescribing Among Hospitalized Older Adults

Principal Investigator: Allison H. Oakes, PhD
Co-Investigator: Mitesh S. Patel, MD, MBA, MS
Because high risk medications are a significant overuse issue in elderly patients, prescribing inappropriate medication (PIM) in older adults is a major public health concern due to its high prevalence, associated negative outcomes, morbidity, and increased costs. Excessive variation in physician practice represents an important, but poorly understood, source of PIM prescribing. This study measures physician PIM variation with the goal of informing the development of a nudge intervention to reduce PIM prescribing.
---
Prevalence and Patterns of Opioid Use Disorder among Veterans Discharged to Post-Acute Care

Principal Investigator: Ashley Z. Ritter, PhD, CRNP
Co-Investigators: Robert E. Burke, MD, MS; Norma B. Coe, PhD; Margaret (Peggy) Compton, PhD
Skilled nursing facilities are an understudied touchpoint in the treatment of opioid use disorder (OUD) among veterans, necessitating further inquiry to understand and implement integrated health services in post-acute care (PAC) settings for this high risk, high cost population. Findings of this study will inform a career development award examining PAC health outcomes of veterans with OUD using methodologies to address selection of the PAC site.
---
Pilot Mixed Methods Evaluation of the Barriers and Facilitators to Suicide Prevention in Juvenile Detention

Principal Investigator: Brittany Rudd, PhD
Co-Investigator: Rinad Beidas, PhD
Death by suicide among 10-25-year-olds is a major concern. Vulnerable youth who enter the juvenile justice (JJ) system are four times more likely to engage in suicidal behaviors than their peers. JJ suicide prevention guidelines in juvenile detention include ongoing evidence-based suicide risk screening and triaging to appropriate pathways of care. This study of suicide prevention efforts in the Chester County Juvenile Detention Center will allow for the identification of key barriers to, and facilitators of, more effective suicide prevention.
---
Pediatric Caregiver Perspectives Regarding Use of an Electronic Resource Map to Address Unmet Social Needs

Principal Investigator: Aditi Vasan, MD
Co-Investigator: Chén Kenyon, MD, MSHP
Poverty and associated social determinants of health adversely impact children's health and development. However, previous studies of pediatric providers found limited efficacy in linking families to resources. This study will improve our understanding of how social needs screening and referral programs can best meet families' needs and lead to the development of referral workflows that optimize caregivers' rates of linkage with resources. The findings will inform the design and implementation of screening and referral programs.