News
Video Excerpt: Ingrid Nembhard – Testing a New Role for Nurses as Care Coordinators
Driven by the Reality That 'Care Coordination Failures Are Quite Prevalent'
Issues related to care coordination remain a serious concern throughout the health care system and a new role for nurses may be one way to address the problem, Professor Ingrid Nembhard told the 2018 Penn Health Policy Retreat.
"The reason that care coordination has been on the agenda for quite some time now is because care coordination failures are quite prevalent," she said.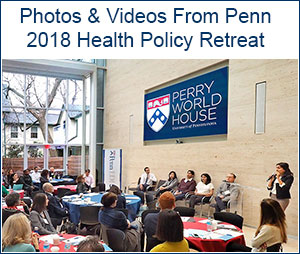 Nembhard, PhD, MS, recently joined the Wharton School Health Care Management Department from Yale where she was an Associate Professor in both the School of Public Health and the School of Management. The focus of her research is on the work environment of health care professionals and organizational learning in health care.
She pointed out that the latest survey found 35% of patients saying they had experienced a care coordination failure in the previous two years and that the percentage is higher for high-needs patients.
"We care about this because there are implications for care coordination failures," Nembhard said. "The data shows there are poor quality outcomes for patients. We tend to see more medication errors, higher mortality rates and higher cost of care where there are care coordination gaps."
She is studying the use of nurses as care coordinators on their respective clinical teams. To analyze the dynamics of nurses in this new role she conducted a field experiment in which each nurse, physician and other personnel wore recording badges. The devices were designed to document care team member interactions including listening and interruptions.
Nembhard said the findings to date indicate potential problem areas. "We see that interruptions have increased between team members. We see that listening appears to be going down as recorded by the badges and we see there's been no change in the equality of turn taking. Past literature done in management work would say that better equality in turn taking between nurses and physicians and other care team members would be associated with better team performance."