News
Video Excerpt: Matthew Press – Anatomy of a Care Coordination Case
A Primary Care Physician Demonstrates the Real-World Complexities of Coordination Management
In a brief but compellingly insightful animation documenting 80 days of one typical patient's care, Associate Medical Director of Penn Medicine's Primary Care Service Line Matthew Press made the complexities of care coordination clearer than ever before, even for an audience of health care professionals.
Speaking at the 2018 Penn Health Policy Retreat, Press, MD, MSc, a practicing primary care physician and LDI Senior Fellow, told the audience, "We talk a lot in policy circles about care coordination but I think until you actually live it either as a patient or a family member or physician, you don't really know what it looks like."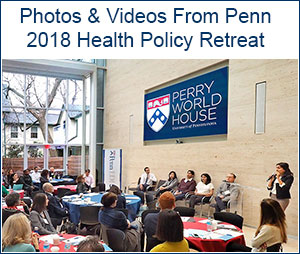 As his animation sprouted a tangle of colored lines showing the evolving flow of care coordination communications occurring during the treatment of a 70-year-old patient who had bile duct cancer, Press emphasized the process can get "incredibly complex."
In the end, his on-screen annimation was a dense network of 28 emails, 24 phone calls, 11 appointments, and 5 procedures that ended with the removal of the tumor.
"There are two main lessons in this story," said Press. "One, care coordination is hard to do. It takes time and skill and resources. Two, it's incredibly important. There were several instances in the care of this patient where medical errors were averted because all the clinicians engaged in his care were communicating with each other."
"Overall," he continued, "the process wasn't done efficiently because I did it all myself because otherwise no one would have done it."
The overarching point of his presentation was that this process is one that a Penn Medicine Primary Care Transformation and Population Management initiative is working to implement across its regional network of primary care physicians that treats more than 500,000 patients.