News
Video Report: The Science of Quantifying the Impact of Firearm Violence
An LDI-Penn Injury Science Center Session at Penn Teach-In 2018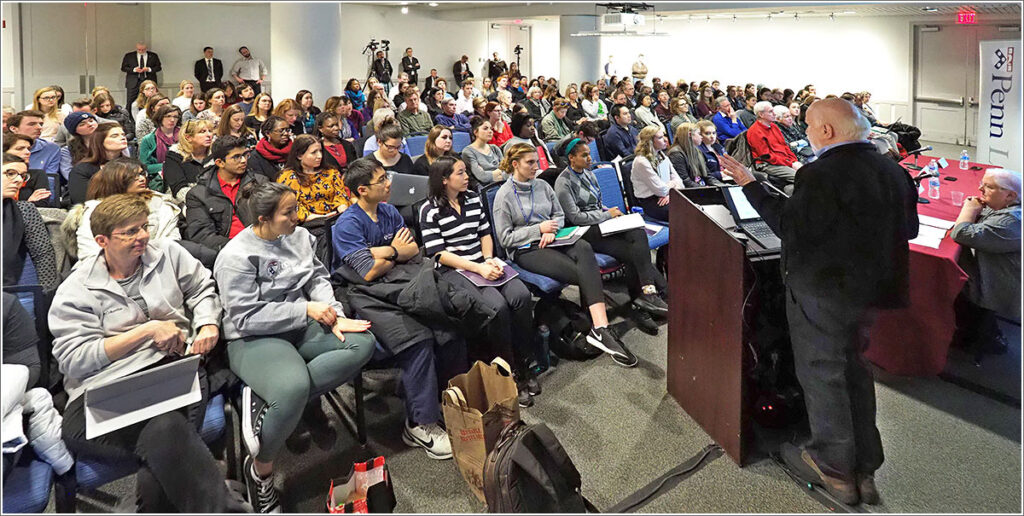 In the wake of the accelerating pace of mass shootings across the U.S., firearm violence remains a major topic of impassioned national debate. The University of Pennsylvania included this issue in its recent campus-wide "Teach-In 2018" with a session that brought together four faculty researchers who are nationally recognized experts in the field of injury science.
Co-hosted by the Leonard Davis Institute of Health Economics (LDI) and the Penn Injury Science Center (PISC) and entitled "Firearm Violence: Science, Policy & Politics," the panel discussion packed the Terrace Room of Penn's Claudia Cohen Hall. Below are videos of the four different aspects of the subject covered by the speakers.
10:19 min. | LDI Senior Fellow and Penn School of Nursing Professor and Associate Dean for Research & Innovation Terry Richmond explained the contentious recent history of gun violence, federal policymaking, and a strategy characterized in the New England Journal of Medicine as "a partisan assault on science."
06:21 min | LDI Senior Fellow and Perelman School of Medicine Assistant Professor Daniel Holena reviewed how the deaths of 437 people in 2017's mass shootings triggered a now-routine cycle. "There's a mass shooting, then an outpouring of grief and outrage, a news cycle dominated by calls for action, and then time passes and not much happens until the next mass shooting."
09:22 min | LDI Senior Fellow and Perelman School of Medicine Associate Professor Douglas Wiebe said the evidence to date shows that "consistently, whether you have more guns with people, more guns in homes, more guns in cities or counties, more guns in states, or more guns in countries, you have more gun deaths."
07:12 min | Research Director of the Annenberg Public Policy Center Dan Romer discussed the influence that gun violence in news reports and entertainment shows can have on the decision of some young people to acquire guns.