News
Werner, Ersek and Travers Named to NAM Nursing Home Quality Committee
Focus on Regulations, Financing, Quality Measures and COVID Challenges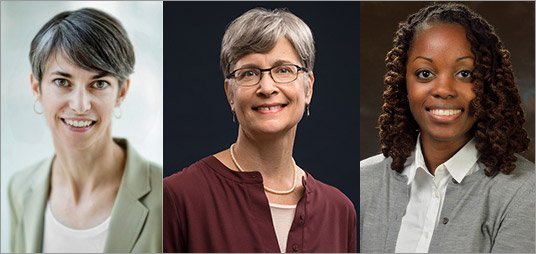 Two LDI Senior Fellows and a former Penn LDI CICADA Scholar have been appointed to the National Academies of Sciences, Engineering, and Medicine's Committee on the Quality of Care in Nursing Homes. They are Rachel Werner, MD, PhD, Mary Ersek, PhD, RN, FPCN, and Jasmine Travers, AGPCNP-BC CCRN PhD RN.
The new Committee on the Quality of Care in Nursing Homes begins its first round of meetings on November 12 and 19. It's the first time NAM has looked at nursing home quality in 34 years and comes at a time when U.S. nursing homes have experienced catastrophic levels of COVID-19 related infections and death among both their patients and staff.
COVID-19 pandemic challenges
The NAM announcement said the Committee will "examine how our nation delivers, regulates, finances and measures quality of nursing home care, including the long-standing challenges brought to light by the COVID-19 pandemic."
The primary sponsor for this study is the John A Hartford Foundation. Additional support has been provided by the Commonwealth Fund and the Sephardic Foundation.
Werner is the Executive Director of the Leonard Davis Institute of Health Economics (LDI), and Professor of both Health Care Management at the Wharton School and Medicine at the Perelman School of Medicine. Ersek is a Professor of both Palliative Care and Biobehavioral Sciences at Penn's School of Nursing, and Medicine at the Perelman School. Travers is an Assistant Professor at the NYU College of Nursing.
The research agendas of all three have been heavily focused on vulnerable aging populations, nursing homes and related long-term facilities.