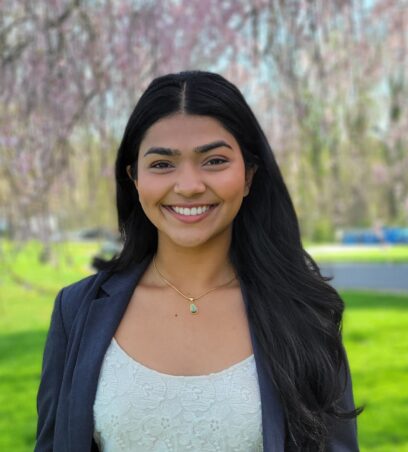 Daniella Jacob
Daniella Jacob is a sophomore pursuing a bachelor's degree in Psychology with a
concentration in Child & Family Studies along with a second major in Education. Jacob has
worked in advocacy for children's rights by creating and implementing opportunities for early
education and mental health provision for adolescents. She has worked with the City of Houston
Mayor's Office of Education, UNICEF Advocacy, American Red Cross, and grassroots
initiatives. She hopes to pursue a Master's in Social Work and Social Research and enter policy
work in advocacy for minoritized adolescents and families.

During SUMR, Jacob worked on two projects: With Dr. James Guevara, she studied
mothers with Postpartum depression (PPD) and explored the impact of PPD on greater child
development status. With Danielle Sands, Jacob worked to create effective opportunities
to support children's early development and learning through parent-informed messaging for
families in Philadelphia and worked to implement findings into policy through the Children's
Hospital of Philadelphia's PolicyLab.

At Bryn Mawr College, Jacob serves in the Student Governance Association (SGA) as the
Undergraduate Representative to the Faculty. Jacob also serves as a Researcher and Tour Guide
for the Black at Bryn Mawr program, working to uncover the hidden histories of Black students,
faculty, and staff at the institution. Jacob is also a part of South Asian affinity groups and
Interfaith and Christian religious programming. When Jacob is not participating in any of the
above, you can find her exploring the city, watching documentaries, or making music.
Presentation Slides
Video