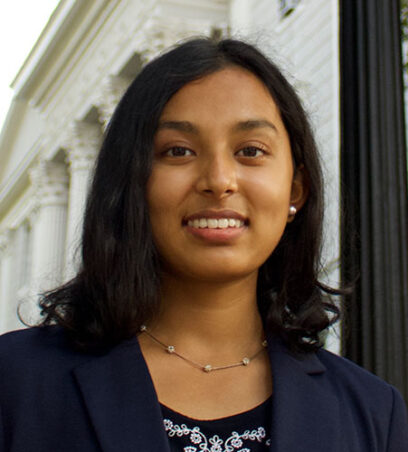 Priyanka Parikh
Priyanka Parikh was a senior pursuing undergraduate degrees in Economics and Biochemistry at University of Georgia. Parikh is interested in working at the intersection of biochemistry and economics to help reshape how U.S. long-term care is defined and delivered. She aspires to work as a physician-policymaker to help build a long-term care system that adopts a community-centered approach, supports both the providers and recipients of care, and humanizes aging.
During SUMR, she was able to work with Dr. Pilar Gonalons-Pons, PhD to evaluate the impact of Medicaid policy reform on the caregiving workforce. With Dr. Norma B. Coe, PhD, Parikh worked with the PEDAL lab to further explore the US long-term care system. Through Roosevelt at UGA, a student-run policy think tank, she strives to bridge the divide between the Athens and UGA communities by engaging students in local policy issues. She volunteers with The Backpack Project of Athens to deliver meals to homeless encampments on weekends. Believing that medicine should not stop at the clinic doors, she also leads medical students in running menstrual health education workshops across the US as National Student Coordinator of the Period Education Project.
In her free time, Parikh enjoys afternoon runs across campus and practicing cartwheels with her friends.
Presentation Slides
Video